There are currently, 164 guest(s) and 0 member(s) that are online.

You are Anonymous user. You can register for free by clicking here
Quantum engines with entanglement as fuel?
Submitted by Scalar: Quantum engines with entanglement as fuel? Hello, I found these interesting articles, I wanted to share with you and your readers. Please post it for readers to see:

"Professor of physics Andrew Jordan Jordan and his colleagues will use superconducting circuits to design experiments that can be carried out within a realistic quantum system, with the goal of studying concepts that are currently poorly understood in quantum mechanics. (Image: J. Adam Fenster)"
This is interesting because many years ago the famous free energy developer, Thomas Bearden, said that he predicted that once the details of controlling quantum potential fields and entanglement was developed, we could see quantum engines and self replicating quantum materials based on this. That article from Nano Werk shows this is possible and being worked on.

Posted by vlad on Friday, October 16, 2020 @ 11:52:32 GMT (159 reads)
(Read More... | 3075 bytes more | 1 comment | Score: 3)
Clean, limitless power from graphene
Anonymous writes:
Via
phys.org
:
Physicists build circuit that generates clean, limitless power from graphene

A team of University of Arkansas physicists has successfully developed a circuit capable of capturing graphene's thermal motion and converting it into an electrical current.
"An energy-harvesting circuit based on graphene could be incorporated into a chip to provide clean, limitless, low-voltage power for small devices or sensors," said Paul Thibado, professor of physics and lead researcher in the discovery.

Posted by vlad on Saturday, October 03, 2020 @ 07:47:56 GMT (159 reads)
(Read More... | 2138 bytes more | comments? | Score: 0)
Vacuum Energy Conversion Engine
Via PACEnet from The New Energy Concepts Group/Forums:

Vacuum Energy Converter

by

Geffrey Renteria




A guide to tapping the Zero-Point Energy of the Space-Time Vacuum




INDRODUCTION



Everyone has heard of the Zero-Point Energy Field, and there are even experiments such as the Casimir and Wu experiments that confirm that this energy can be tapped into to do useful work.




The technology described in this manual is REAL, and fully explained by todays experimental physics and data. Every component will be detailed and every concept behind its operation revealed.

Posted by vlad on Tuesday, September 22, 2020 @ 21:28:43 GMT (389 reads)
(Read More... | 3482 bytes more | comments? | Score: 0)
Nano-diamond self-charging batteries could disrupt energy as we know it
Via NewAtlas: Here shown as a small, circuit board mounted design, the nano diamond battery has the potential to totally upend the energy equation since it never needs charging and lasts many, many years - NDB





California company NDB says its nano-diamond batteries will absolutely upend the energy equation, acting like tiny nuclear generators. They will blow any energy density comparison out of the water, lasting anywhere from a decade to 28,000 years without ever needing a charge. They will offer higher power density than lithium-ion. They will be nigh-on indestructible and totally safe in an electric car crash. And in some applications, like electric cars, they stand to be considerably cheaper than current lithium-ion packs despite their huge advantages.

BLP News & Updates - SUNCELL® POWER GAIN 10+
From Brilliant Light Power: SUNCELL® POWER GAIN 10+


We are engineering commercial thermal and electrical power sources wherein the SunCell® operates at high-temperature capable of providing 1000°C liquid gallium to a liquid-gallium-to-air heat exchanger to generate high temperature air for thermal loads and also power a Brayton cycle turbine to generate electrical power. We successfully tested an upgraded system to supply a more ideal hydrino reaction mixture that has pushed our gain to over ten times the input power at greater than 250 kW excess power and a corresponding power density of over 5 MW/liter. The results of these trials demonstrate the utility of SunCell® towards the goal of a commercial heater of several hundred kilowatts to service the greater than $8T/y thermal market and enable the integration of the heat exchanger into a Brayton cycle to produce electricity to service the electrical market.

World first commercial long-range, wireless power transmission
Via
NewAtlas.com
:
NZ to trial world-first commercial long-range, wireless power transmission
By Loz Blain
Emrod's wireless power transmission devices can beam large amounts of electrical power between two points, with line of sight between relays the only limit on distance - Emrod
A New Zealand-based startup has developed a method of safely and wirelessly transmitting electric power across long distances without the use of copper wire, and is working on implementing it with the country's second-largest power distributor.

Posted by vlad on Wednesday, August 05, 2020 @ 15:44:07 GMT (340 reads)
(Read More... | 3463 bytes more | comments? | Score: 5)
From EnergyFromTheVacuum.com: By William Doyle Jr. - The following is additional information that William Doyle has provided regarding the operation of the Cold Heat Motor that he says was one of his earliest write-ups. Edited from private correspondence.

'ZERO FUEL ENGINE' aka 'COLD HEAT ENGINE SYSTEM'

This electricity is of the Negative Radiant type, which offers way more flexibility to users. It was first shown in the USA by Nikola Tesla, way back in the Westinghouse financed Chicago Exposition before the year 1900!

Electromagnetic Proton Radiation/ Pressure Wave Energy in Combination With Sourcing Ambient Energy From The Vacuum.

Posted by vlad on Saturday, July 04, 2020 @ 22:27:47 GMT (424 reads)
(Read More... | 14462 bytes more | comments? | Score: 0)
Via Bloomberg.com: A Million-Mile Battery From China Could Power Your Electric Car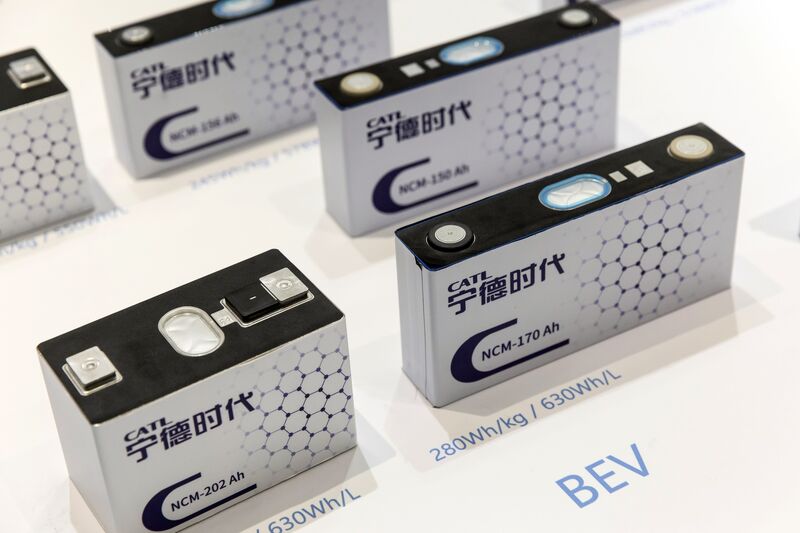 The Chinese behemoth that makes electric-car batteries for Tesla Inc. and Volkswagen AG developed a power pack that lasts more than a million miles -- an industry landmark and a potential boon for automakers trying to sway drivers to their EV models.
Contemporary Amperex Technology Co. Ltd. is ready to produce a battery that lasts 16 years and 2 million kilometers (1.24 million miles), Chairman Zeng Yuqun said in an interview at company headquarters in Ningde, southeastern China. Warranties on batteries currently used in electric cars cover about 150,000 miles or eight years, according to BloombergNEF.

Water-splitting module a source of perpetual energy
From Rice University: 'Artificial leaf' concept inspires Rice University research into solar-powered fuel production by Mike Williams/May 4, 2020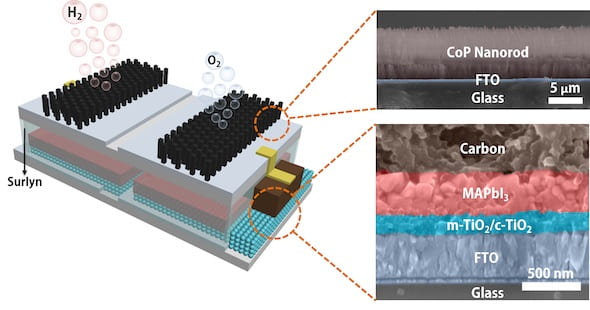 A schematic and electron microscope cross-section show the structure of an integrated, solar-powered catalyst to split water into hydrogen fuel and oxygen. The module developed at Rice University can be immersed into water directly to produce fuel when exposed to sunlight. Illustration by Jia Liang
Rice University researchers have created an efficient, low-cost device that splits water to produce hydrogen fuel. The platform developed by the Brown School of Engineering lab of Rice materials scientist Jun Lou integrates catalytic electrodes and perovskite solar cells that, when triggered by sunlight, produce electricity.
Radical hydrogen-boron reactor leapfrogs current nuclear fusion tech
Via New Atlas: Radical hydrogen-boron reactor leapfrogs current nuclear fusion tech by Loz Blain

Australian company HB11 says it's well on the way to nuclear fusion energy generation without the radioactive fuels or super-high temperatures/kuligssen/Depositphotos




"We are sidestepping all of the scientific challenges that have held fusion energy back for more than half a century," says the director of an Australian company that claims its hydrogen-boron fusion technology is already working a billion times better than expected.

Posted by vlad on Friday, February 21, 2020 @ 17:40:43 GMT (1636 reads)
(Read More... | 3392 bytes more | 1 comment | Score: 5)
Latest News and Updates from Brilliant Light Power
From https://brilliantlightpower.com/news/: VALIDATION REPORTS:




Stephen Tse, Ph.D. Department of Mechanical and Aerospace Engineering, Rutgers University validated up to 340 kW of power produced by BrLP's proprietary hydrino plasma reaction maintained in its SunCell® using molten metal bath and water bath calorimetry.




Dr. Mark Nansteel, Ph.D. University of California, Berkeley and heat transfer expert validated up to 200 kW of power produced by BrLP's proprietary hydrino plasma reaction maintained in its SunCell® using molten metal bath calorimetry.
Posted by vlad on Thursday, February 13, 2020 @ 17:33:22 GMT (1334 reads)
(Read More... | 3549 bytes more | 1 comment | Score: 0)
Brilliant Light Power News: SUNCELL® Pre-run Test
From brilliantlightpower.com/news: This real-time video of a 15s startup test of the SunCell® before performing water bath calorimetry demonstrates how incredibility fast the SunCell® responds to hydrogen addition wherein the cell wall, cooled by an internally circulated molten gallium bath heat-sink, turns to white within 7 seconds post addition. As a routine matter, we can demonstrate over 100 kW of excess power with high gain from the hydrino reaction with no-hydrogen-addition runs showing energy balance (zero excess power).

Posted by vlad on Friday, October 18, 2019 @ 22:12:56 GMT (1989 reads)
(Read More... | 1126 bytes more | comments? | Score: 0)
REGENERATIVE ACCELERATION ReGenX Technology
From
Thane Heins
website (https://thaneheins.ca/):
ReGenX Generator for Electric Power Generation
In electric power generation applications; the ReGenX Generator is a new generator design which operates with a Load Current Delay that reverses Generator Armature Reaction and allows the generator to deliver on-load electrical output power with less mechanical input power than was required at idle on no-load.

Over 80% of the cost of generating electricity is due to the input energy cost required to overcome Generator Armature Reaction. Environmentally over 80% of the Greenhouse Gasses and Nuclear waste produced globally are due to Generator Armature Reaction.

Posted by vlad on Friday, August 09, 2019 @ 17:27:49 GMT (2839 reads)
(Read More... | 2642 bytes more | 1 comment | Score: 0)
Via
NewAtlas.com
:
Silicon chip breaks "blackbody limit" to produce more electricity from heat than thought possible
University of Utah mechanical engineering associate professor Mathieu Francoeur has discovered a way to produce more electricity from heat than thought possible with his Near-Field Radiative Heat Transfer Device(Credit: Dan Hixson/University of Utah College of Engineering)
...The blackbody limit (formulated in 1900 by German physicist Max Planck) is a theory which describes the maximum amount of energy that can be produced from thermal radiation (heat), but when objects get very, very close, the law breaks down and thermal transfer from one object to another increases exponentially.

The Earth Engine - Inductance Energy Corp. (IEC)
Inductance Energy - Powering humanity using Magnetic Propulsion, the world's most efficient energy source



Earth Engine is the world's first and only power source propelled by Asymmetrical Magnetic Propulsion. It can generate electricity, operate liquid pumps, air compressors, and other mechanical devices 24 hours a day, 365 days a year. It is fully independent of the power grid and offers significant cost savings over other technologies. Earth Engine creates constant, reliable, and renewable energy.




Earth Engine is in production - Currently, IE has developed, manufactured, and is installing 7.5 to 25-kilowatt engines, capable of driving up to 4,000 pounds of inertia power and delivering in excess of 25 kilowatts.

Don't have an account yet? You can create one. As a registered user you have some advantages like theme manager, comments configuration and post comments with your name.
Sunday, April 21, 2019
·
Brilliant Light Power News
Saturday, January 26, 2019
·
Flow Testing of a Cubic SunCell® Hydrino Reactor
Monday, January 14, 2019
·
IEEE-Madison (Wisconsin) to hold Meeting on LENR on Jan 31st to View E-Cat Prese
Thursday, December 27, 2018
·
2018 Update on Brillouin Energy and its LENR Work
Sunday, November 18, 2018
·
Nanotubes may give the world better batteries
Monday, November 05, 2018
·
Why DARPA Is Betting a Million Bucks on an "Impossible" Space Drive
Thursday, July 05, 2018
·
Proven: Graphene Makes Multiple Electrons From Light
Monday, May 21, 2018
·
Self-assembling 3D battery would charge in seconds
Sunday, April 01, 2018
·
Tubular homo polar generator
Saturday, March 03, 2018
·
Rossi: Higher Power E-Cat Reactor being Tested
Tuesday, February 20, 2018
·
System draws power from daily temperature swings
Monday, February 05, 2018
·
Generate antimatter from vacuum...
Friday, June 30, 2017
·
EMDrive progress
Sunday, March 12, 2017
·
Infinity SAV© – Electromagnetic Generator 10kW ~ Russians Create Free Energ
Saturday, March 04, 2017
·
A Forgotten War Tech Could Safely Power Earth for Millions of Years
Thursday, January 19, 2017
·
The John Searl Story- Searl Effect Generator (video)
Thursday, January 05, 2017
·
Berkeley Clean Technology Company Announces Breakthrough for LENR Power Devices
Friday, December 02, 2016
·
'Diamond-age' of power generation as nuclear batteries developed
·
5 Incredible Suppressed Inventions Video
Thursday, November 03, 2016
·
BRILLIANT LIGHT POWER'S OCTOBER 26, 2016 INDUSTRY DAY
Older Articles

It is dangerous to be right in matters on which the established authorities are wrong.

-- Voltaire