There are currently, 227 guest(s) and 23 member(s) that are online.

You are Anonymous user. You can register for free by clicking here
Dr. Steven Greer writes: Thank you so much for your support. We have sold out the 800 seat main theater for the Sirius premiere in Los Angeles, BUT you may still be part of the excitement. We have engaged another theater in the same complex. Be part of the red carpet excitement and see the film when it is presented to a theater audience for the 1st time.

April 22, 2013 - Regal Cinemas LA Live
1000 W. Oympic Blvd
Los Angeles, CA 90015

Red Carpet opens at 7 pm, Preshow remarks from Dr. Greer at 7:45 (Theater A only), Screening at 8 pm sharp. Tickets are only available on-line. No tickets will be sold at the door.
Posted by vlad on Wednesday, April 03, 2013 @ 23:35:10 PDT (501 reads)
(Read More... | 4734 bytes more | comments? | Score: 0)
In EGO OUT Peter Gluck writes: I have dedicated to Cold Fusion then LENR then HHENI almost a third of my (professional) life time and therefore I am very dedicated to it and I have huge expectations for/from it. It is not necessary any mental effort for me to perform kind of personification of LENR and to wish it, at this New Year celebration, the classic:

Vivat, crescat, floreat LENR!
(i.e. May it live, grow and flourish!)

American Antigravity site rebuild complete!
Tim Ventura writes on FB: AAG REBUILD COMPLETE! Thank God, I'm exhausted!

NOW there are 310 stories, videos, and interviews online, all with descriptions & thumbnails, plus a great waterfall menu system to make it easier to find stuff. I'll be adding even more new material soon, but at the moment I'm just happy to have EVERYTHING back online....years of work, available again for the first time in years...
Posted by vlad on Monday, October 08, 2012 @ 11:19:25 PDT (1370 reads)
(Read More... | 831 bytes more | 1 comment | Score: 0)
LENR Gets Major Boost From National Instruments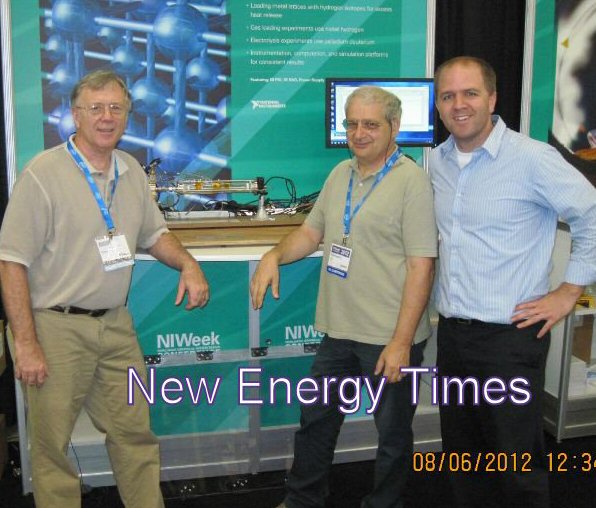 by Steven B. Krivit/ New Energy Times: National Instruments, a major U.S. company that produces tools for engineers and scientists, sponsored a demonstration of a nickel-hydrogen gas low-energy nuclear reaction reactor on Monday at its annual NI Week trade show at the Austin Convention Center in Texas. National Instruments is also sponsoring talks there on LENR research.

According to a source at the show who spoke with James Truchard, co-founder, president and chief executive officer of National Instruments, Truchard is very interested in LENR research.

New Energy Times spoke with Julia Britts, media relations manager for National Instruments, on Monday to get more information about Truchard's interest in LENR, but neither got back to New Energy Times before we went to press.*
* REVOLUTIONARY * Video released in 6 days - from the Bedini-Lindemann 2012 Conf
Hi Vlad,

You're in for an incredible ride over the next several months! The conference a few weekends ago was phenomenal and you'll be able to get some of the presentations on video! We are very excited to have been one of the primary sponsors of the conference as the presentations that were shared is totally in alignment with what our mission is.

"Cold Heat from Canada" notes and drawings now available on DVD
Tony Craddock writes: In the 1960s and early 1970s Designex Inc., one of Canada's leading aerospace design firms developed a Fuel less Self-Powering Negative Electricity Generator System, which was previously described by its Chief Designer Ieuan Thomas in the "Cold Heat from Canada" DVD in the "Energy from the Vacuum"TM Science Series.

See the trailer at http://www.youtube.com/watch?v=fouGaehiIvQ

Thomas' notes and drawings relating to this Self-Powering Generator System, together with much private correspondence, are now available on DVD as Part 19B, and can be purchased separately, or as a two-disc set, with the original one hour Ieuan Thomas interview from the "Energy from the Vacuum"TM Website.
Space, Propulsion & Energy Sciences Internat'l Forum
Jeane Manning writes (changingpower.net): Infinite Energy magazine's editor Christy Frazier had asked me to write a report on the Space, Propulsion and Energy Sciences International Forum, held at the end of February and early March at the University of Maryland. Now, ready to publish, she sent me a link to the PDF of the article. Pictured at the left is Thomas Valone. With the help of his wife Jacquie and other generous volunteers, Valone organized SPESIF 2012. The article is long, but it's only a fraction of what I learned at the conference.
MAJOR DISCLOSURE MESSAGE from Dr. Steven Greer
Dear friends of Disclosure,
The Disclosure Project and CSETI has teamed up with Emmy award winning filmmaker Amardeep Kaleka to make an historic new documentary on Disclosure, Contact and the suppression of New Energy.
The combination of the extensive top-secret witness testimony and evidence collected by The Disclosure Project will be combined with the highly accomplished filmmaking talent of Mr. Kaleka and his group to make a film that will change the course of history.
No major studio or media group will touch this story : It is simply too explosive and world- changing for large corporate interests to embrace.
Creating a 'Ripple in the Force' of the Power Industry
Futurist Thomas Frey: Working with many early stage inventors, I often have the privilege of seeing some truly remarkable inventions and innovations. A few days ago I was shown a technology that snugly fits into that remarkable category, one that has the potential to radically transform the way cars and other vehicles are powered. In fact, vehicles using this power source will never need to stop and refuel.

I'm not at liberty to explain this technology in detail, but bu using this power source to fuel what is otherwise an electric vehicle, these cars will have 70% fewer moving parts – no ignition, gas tank, oil filter, catalytic converter, or muffler – and in this case, a highly efficient, non-traditional battery that will outlive the life of the rest of the car.
The Limitless Potential of the E-Cat: An Interview with Andrea Rossi
James Stafford (OilPrice.com) writes: Dear Editor,

I wanted to get in touch as we were fortunate enough to interview the media shy Andrea Rossi, creator of the E-Cat this week and I thought you and your readers may be interested in hearing what he had to say.

Mr. Rossi appears to have produced the first working "cold" fusion device, or low energy nuclear reaction (LENR), with his Energy Catalyser (E-Cat) machine. The E-Cat machine could provide almost limitless, clean, cheap energy and could prove to be one of the greatest inventions of all time.

You can read the full interview at:

New DVD. John Bedini divulges his work on the Floyd Sweet overunity device
Anthony Craddock writes: Few people know that in the early days of the development of Floyd Sweet's seminal overunity device, which was measured as putting out over a million times more power than was input, John Bedini was an integral part of the team.




This team initially included Walter Rosenthal, and, later, Tom Bearden, but it was John who in fact built and tested many of the key components for Floyd Sweet, and it was John who sat with Floyd night after night at Sweet's house being tutored by him in the hidden electrodynamics that the great Gabriel Kron taught Floyd at General Electric.



World Puja Program January 13, 2012 - Conversations with Dr. Steven Greer
From CSETI: New Energy for the New Year

Dr. Steven Greer and Dr. Ted Loder

Dr. Greer and Dr. Loder will discuss the ever increasing importance of bringing out the truly alternative energy sources of zero-point energy.

Some of the discussion may be old news for those who have been following The Orion Project but for others who are just learning about these possibilities it bears repeating. The ever increasing urgency of getting this truth out is a wake up call to us all.


Posted by vlad on Wednesday, January 11, 2012 @ 21:58:00 PST (1692 reads)
(Read More... | 1598 bytes more | 4 comments | Score: 0)
The Secret: Evidence We Are Not Alone
Long and thorough analysis by archive researchers of the Majestic 12 (MJ12) leaked documents (dating from 1940-50) seems to have concluded that they are authentic. Researchers do have several documents that are original pages; they permit tests that can not be done with copies, such as (sometimes), see through blacked-out areas and decipher the hidden words. In the movie, they show such a document (just a page) that lists the reasons the government must adopt a policy of "control and denial" regarding UFO intelligence. Only item "d" was completely blacked-out but, I find very interesting, the text that researchers were able to decipher:
"d. Monetary and financial institutions would suffer tremendously [illegible]...currency value and industrial and commercial energy providers."

Here are the other reasons, not blacked-out on the visible page of the original document:
Note:
"On the day that we do discover that we are not alone, our society may begin to evolve and transform in some incredible and wondrous new ways." - Carl Sagan. May the year of that day be 2012 [Vlad]

New Energy Times' Editor Krivit Interviewed on LENR for Intelligence Agency
From New Energy Times Magazine: On Nov. 21, I received a phone call from Avra Michelson, an analyst with MITRE Corp. Michelson explained that MITRE Corp. is a federally funded research and development center that is sanctioned by Congress to work in the public interest exclusively with government. It helps government with some of its hardest systems engineering problems and with its work with the private sector.

Michelson told me that she was doing background research on LENR on behalf of the Intelligence Advanced Research Projects Activity. She invited me to be interviewed as a subject-matter expert on LENR.
Posted by vlad on Thursday, December 08, 2011 @ 20:17:27 PST (2277 reads)
(Read More... | 1351 bytes more | 7 comments | Score: 5)
Invention Secrecy on the Rise
During fiscal year 2011, there were 143 new secrecy orders imposed on patent applications under the Invention Secrecy Act of 1951, the U.S. Patent and Trademark Office reported this week. This represents an increase of 66% over the year before, and it is the highest number of new secrecy orders in a single year since 1998. The Invention Secrecy Act authorizes the government to block the disclosure of a patent application if it contains information that might be "detrimental to the national security." Remarkably, this secrecy authority extends even to privately-generated inventions that the government does not own or control. According to USPTO statistics obtained by the Federation of American Scientists under the Freedom of Information Act, a total of 5,241 patent secrecy orders were in effect at the end of FY 2011, including both new secrecy orders and those from previous years that had been renewed.
Don't have an account yet? You can create one. As a registered user you have some advantages like theme manager, comments configuration and post comments with your name.
Sunday, October 02, 2011
·
Idiotic 'quote' deserves a major bitch slap & a boot to the head
Sunday, July 31, 2011
·
Dr. Brian O'Leary passed away July 29 , 2011
Saturday, May 07, 2011
·
Bill Gates on the Energy Crisis
Thursday, May 05, 2011
·
Swedish Skeptics Confirm "Nuclear Process" in Tiny 4.7 kW Reactor
Wednesday, February 09, 2011
·
Cold Fusion Researchers Say Biggest Problem Is Stigma
Tuesday, January 11, 2011
·
W. Baumgartner will be missed
Sunday, October 24, 2010
·
Invention Secrecy Still Going Strong
Monday, May 24, 2010
·
NASA scientists willing to verify overunity electromagnetic machines
Sunday, May 16, 2010
·
IMPORTANT UPDATE - THE ORION PROJECT
Tuesday, December 08, 2009
·
Defining Moments - New Energy from the Vacuum DVD
Monday, November 30, 2009
·
Thinking and Destiny
Sunday, November 01, 2009
·
Invention Secrecy at Highest in a Decade
Sunday, October 25, 2009
·
Special Presidential Briefing
Sunday, September 20, 2009
·
"Energy from the Vacuum"TM Series - "Seeking Overunity"
Wednesday, September 09, 2009
·
An Urgent Open Letter To The Prime Minister Of Australia
Monday, September 07, 2009
·
Yahoo geocities website is about to bite the dirt
Tuesday, August 18, 2009
·
New "Energy from the Vacuum" DVD released - The Lockridge Device
Thursday, August 06, 2009
·
Mark Tomion (Stardrive device) has passed away in June
Sunday, July 19, 2009
·
'What's Next: Dispatches on the Future of Science'
Tuesday, June 23, 2009
·
Steorn Jury Announcement
Older Articles

I encourage you to be both a skeptic and also open-minded. That way one is neither naive nor dogmatic, which is the ideal scientific frame of mind.

-- Tom Bearden