There are currently, 501 guest(s) and 0 member(s) that are online.

You are Anonymous user. You can register for free by clicking here
An Impossible Invention: The True Story ...
From the Issue 115 of the Infinite Energy Magazine: New Book Highlights a Potentially World-Changing Energy Source

Italian inventor Andrea Rossi and his E-Cat technology are featured in a new book, An Impossible Invention: The True Story of the Energy Source That Could Change the World. The self-published 309-page book by Mats Lewan was simultaneously released in Swedish and English on April 2, and is available in print and digital format.

Read our full story about the book release, including mini-reviews by numerous people in the LENR community (this also includes the interview linked below).


Purchase the book, which LENR researcher Michael McKubre says "everyone should read."


solaris writes: From KeelyNet.com: As always, Follow the Money - Steven Greer has – how shall I put this? – a rather checkered history in the field of UFO studies. He has promised big things before, with no payoff:
Throughout the '90s, he claimed the ability to summon and communicate with UFOs using lights, lasers, and mental telepathy. (when that scam failed)

In 2008, the Orion Project announced it was developing a free energy device. Delay after delay pushed its unveiling all the way to the spring of 2010, when the Orion Project declared the work could not continue until their funding needs were met (a mere $3 million or so). Greer repeatedly insisted the device was already functional, yet it has still not been revealed. (when that scam failed)

In 2009, he practically guaranteed that the Obama administration would give full disclosure about UFOs and ETs by the end of 2010. (when that scam failed)
Posted by vlad on Sunday, April 27, 2014 @ 16:23:23 EDT (4803 reads)
(Read More... | 4347 bytes more | comments? | Score: 2.33)
A Fresh Look at Invention Secrecy
The Invention Secrecy Act of 1951 has been used for more than half a century to restrict disclosure of patent applications that could be "detrimental to national security." At the end of the last fiscal year, no fewer than 5,321 secrecy orders were in effect.

These secrecy orders have been difficult to penetrate and the stories behind them have usually been left untold. But several inventors whose work prompted imposition of a secrecy order were interviewed by G.W. Schulz of the Center for Investigative Reporting.
Posted by vlad on Thursday, March 27, 2014 @ 21:28:17 EDT (4182 reads)
(Read More... | 1029 bytes more | comments? | Score: 5)
New Energy from the Vacuum DVD available
Anthony Craddock writes: "This is probably the most revolutionary tape that has ever been made."

These are the words of John Cejka, considered by some to be one of the premier experts on free energy systems during his lifetime, and who, before his death, donated this tape to John Bedini.

During this two-hour video and together with the late scientist Dr. Jan Merta, Cejka and Merta provide the narration as the filmed demonstration of one device after another challenges belief.

One of the fifty or so attendees, Dr. Merta is shown investigating the devices on-site, in French-speaking Montreal, where the 1985 filming took place at an extraordinary meeting of the Association of Psychic Phenomena in Montreal, sponsored by the Association of Professional Psychologists, and chaired by Dr. Gaston Brosseau, head of Maisonneuve-Rosemont Hospital Department of Psychology. Also in attendance was well known author Christopher Bird, together with Dr. Bernard Grad, noted paranormal researcher from McGill University in Montreal.

Posted by vlad on Thursday, January 23, 2014 @ 20:20:23 EST (6495 reads)
(Read More... | 3080 bytes more | comments? | Score: 0)
BlackLight Power, Inc. Announces the Game Changing Achievement
BlackLight Power, Inc. Announces the Game Changing Achievement of the Generation of Millions of Watts of Power from the Conversion of Water Fuel to a New Form of Hydrogen
Cranbury, NJ (January 14, 2014) — BlackLight Power, Inc. (BLP) today announced that it has produced millions of watts of power with its breakthrough Solid Fuel-Catalyst-Induced-Hydrino-Transition (SF-CIHT) patent pending technology in its laboratories.
Using a proprietary water-based solid fuel confined by two electrodes of a SF-CIHT cell, and applying a current of 12,000 amps through the fuel, water ignites into an extraordinary flash of power. The fuel can be continuously fed into the electrodes to continuously output power. BlackLight has produced millions of watts of power in a volume that is one ten thousandths of a liter corresponding to a power density of over an astonishing 10 billion watts per liter. As a comparison, a liter of BlackLight power source can output as much power as a central power generation plant exceeding the entire power of the four former reactors of the Fukushima Daiichi nuclear plant, the site of one of the worst nuclear disasters in history.
Quite a few people did bother to reply to my Season Greetings e-mail. I got everything from a three letter "thx", to rants of an anarchist nature about the need for a creative destruction to save the world from itself. But here is one, from my old friend Doug, one of the original ZPEnergy moderators, that I think simply sums things up as they are:

"Hi Vlad, Nice to hear from you. I have collected many proposals for new energy systems, but so far none have made it to Walmart, and aside from a few hybrids, most vehicles on the road still run on gasoline or diesel, though a friend of mine had a Benz that ran on leftover restaurant oil, but he moved back to Austria -- and his personal DIY is by no means a solution for the world. Maybe our future is C3PO and R2D2, but I still do not grasp what they ingest for fuel. The US seems to be banking on achieving fossil fuel energy self-sufficiency for a few years by offshore oil drilling, fracking the country's underlayment and hastening the toxification of our aquifers and surface waters. I question the wisdom of such strategies undertaken in the name of long-term planning, but the media are in the hands of those who know better.

Posted by vlad on Wednesday, December 25, 2013 @ 17:16:30 EST (5145 reads)
(Read More... | 4020 bytes more | 2 comments | Score: 5)
Research papers of Ken Shoulders
On KeelyNet.com Jerry Decker writes: I mirrored the late Ken Shoulders website on Keelynet to insure the information he amassed doesn't go away. I put it in html and added a brief abstract of each PDF. It also has his videos and experimental aircraft projects.

Ken's unique discovery of EVOs (exotic vacuum object) resulted in an 86 page patent which is the first to successfully mention Zero Point Energy as part of the EVO effect.

Posted by vlad on Wednesday, December 11, 2013 @ 19:37:06 EST (5046 reads)
(Read More... | 1755 bytes more | 1 comment | Score: 0)
Why I'm Destined to Become the Richest Man in the World -- for Good
Sterling David Allan (pesn.com) writes: "

Yes, I'm involved in what is sure to be the next huge thing: exotic free energy roll-out worldwide, but that's only part of the reason why I believe I'll become the richest man in the world. And it's not about ego, but about lifting others to also be successful in filling their God-ordained missions in life.


I know; that's quite the precocious story title, and it's sure to evoke quite a few snickers and snarls, especially since in the 11½ years that I've been running this exotic free energy news and networking service, I've had the "donations" hat out quite often. Even now, we still need the augmentation of donations to get by.

Posted by vlad on Sunday, November 17, 2013 @ 22:23:06 EST (4669 reads)
(Read More... | 2886 bytes more | 1 comment | Score: 1)
Implications of Extraterrestrial Technology by Thomas Valone PhD
Tom Valone writes: ... Here is a link to my 10 minute testimonial at the same event (which we reported on last month) that you also may enjoy:

Reprinted from www.IntegrityResearchInstitute.org Future Energy eNews, May, 2013, also posted online: ... While the mainstream believe that fossil fuels, nuclear power and renewables are all there is, a government technology guru told me last week that almost every major industry has a "Free Energy Guy" who keeps his finger on the pulse of the energy wild card that may break any day.
Dr. Steven Greer writes: Thank you so much for your support. We have sold out the 800 seat main theater for the Sirius premiere in Los Angeles, BUT you may still be part of the excitement. We have engaged another theater in the same complex. Be part of the red carpet excitement and see the film when it is presented to a theater audience for the 1st time.

April 22, 2013 - Regal Cinemas LA Live
1000 W. Oympic Blvd
Los Angeles, CA 90015

Red Carpet opens at 7 pm, Preshow remarks from Dr. Greer at 7:45 (Theater A only), Screening at 8 pm sharp. Tickets are only available on-line. No tickets will be sold at the door.
Posted by vlad on Wednesday, April 03, 2013 @ 23:35:10 EDT (6487 reads)
(Read More... | 4734 bytes more | 1 comment | Score: 0)
In EGO OUT Peter Gluck writes: I have dedicated to Cold Fusion then LENR then HHENI almost a third of my (professional) life time and therefore I am very dedicated to it and I have huge expectations for/from it. It is not necessary any mental effort for me to perform kind of personification of LENR and to wish it, at this New Year celebration, the classic:

Vivat, crescat, floreat LENR!
(i.e. May it live, grow and flourish!)

American Antigravity site rebuild complete!
Tim Ventura writes on FB: AAG REBUILD COMPLETE! Thank God, I'm exhausted!

NOW there are 310 stories, videos, and interviews online, all with descriptions & thumbnails, plus a great waterfall menu system to make it easier to find stuff. I'll be adding even more new material soon, but at the moment I'm just happy to have EVERYTHING back online....years of work, available again for the first time in years...
Posted by vlad on Monday, October 08, 2012 @ 11:19:25 EDT (4628 reads)
(Read More... | 831 bytes more | 1 comment | Score: 0)
LENR Gets Major Boost From National Instruments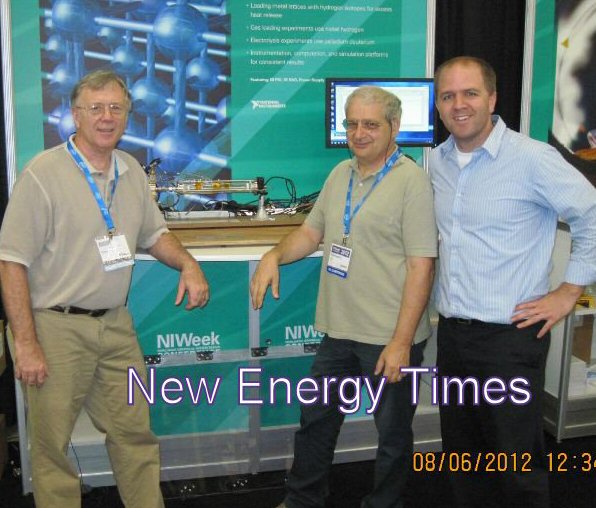 by Steven B. Krivit/ New Energy Times: National Instruments, a major U.S. company that produces tools for engineers and scientists, sponsored a demonstration of a nickel-hydrogen gas low-energy nuclear reaction reactor on Monday at its annual NI Week trade show at the Austin Convention Center in Texas. National Instruments is also sponsoring talks there on LENR research.

According to a source at the show who spoke with James Truchard, co-founder, president and chief executive officer of National Instruments, Truchard is very interested in LENR research.

New Energy Times spoke with Julia Britts, media relations manager for National Instruments, on Monday to get more information about Truchard's interest in LENR, but neither got back to New Energy Times before we went to press.*
* REVOLUTIONARY * Video released in 6 days - from the Bedini-Lindemann 2012 Conf
Hi Vlad,

You're in for an incredible ride over the next several months! The conference a few weekends ago was phenomenal and you'll be able to get some of the presentations on video! We are very excited to have been one of the primary sponsors of the conference as the presentations that were shared is totally in alignment with what our mission is.

"Cold Heat from Canada" notes and drawings now available on DVD
Tony Craddock writes: In the 1960s and early 1970s Designex Inc., one of Canada's leading aerospace design firms developed a Fuel less Self-Powering Negative Electricity Generator System, which was previously described by its Chief Designer Ieuan Thomas in the "Cold Heat from Canada" DVD in the "Energy from the Vacuum"TM Science Series.

See the trailer at http://www.youtube.com/watch?v=fouGaehiIvQ

Thomas' notes and drawings relating to this Self-Powering Generator System, together with much private correspondence, are now available on DVD as Part 19B, and can be purchased separately, or as a two-disc set, with the original one hour Ieuan Thomas interview from the "Energy from the Vacuum"TM Website.
Don't have an account yet? You can create one. As a registered user you have some advantages like theme manager, comments configuration and post comments with your name.
Monday, May 07, 2012
·
Space, Propulsion & Energy Sciences Internat'l Forum
Friday, April 27, 2012
·
MAJOR DISCLOSURE MESSAGE from Dr. Steven Greer
Sunday, April 15, 2012
·
Creating a 'Ripple in the Force' of the Power Industry
Thursday, March 29, 2012
·
The Limitless Potential of the E-Cat: An Interview with Andrea Rossi
Saturday, March 03, 2012
·
New DVD. John Bedini divulges his work on the Floyd Sweet overunity device
Wednesday, January 11, 2012
·
World Puja Program January 13, 2012 - Conversations with Dr. Steven Greer
Monday, December 26, 2011
·
The Secret: Evidence We Are Not Alone
Thursday, December 08, 2011
·
New Energy Times' Editor Krivit Interviewed on LENR for Intelligence Agency
Monday, October 24, 2011
·
Invention Secrecy on the Rise
Sunday, October 02, 2011
·
Idiotic 'quote' deserves a major bitch slap & a boot to the head
Sunday, July 31, 2011
·
Dr. Brian O'Leary passed away July 29 , 2011
Saturday, May 07, 2011
·
Bill Gates on the Energy Crisis
Thursday, May 05, 2011
·
Swedish Skeptics Confirm "Nuclear Process" in Tiny 4.7 kW Reactor
Wednesday, February 09, 2011
·
Cold Fusion Researchers Say Biggest Problem Is Stigma
Tuesday, January 11, 2011
·
W. Baumgartner will be missed
Sunday, October 24, 2010
·
Invention Secrecy Still Going Strong
Monday, May 24, 2010
·
NASA scientists willing to verify overunity electromagnetic machines
Sunday, May 16, 2010
·
IMPORTANT UPDATE - THE ORION PROJECT
Tuesday, December 08, 2009
·
Defining Moments - New Energy from the Vacuum DVD
Monday, November 30, 2009
·
Thinking and Destiny
Older Articles

Fear not the path of truth, fear the lack of people walking on it.

-- Robert F. Kennedy