There are currently, 154 guest(s) and 0 member(s) that are online.

You are Anonymous user. You can register for free by clicking here
Vacuum Energy Conversion Engine
Via PACEnet from The New Energy Concepts Group/Forums:

Vacuum Energy Converter

by

Geffrey Renteria




A guide to tapping the Zero-Point Energy of the Space-Time Vacuum




INDRODUCTION



Everyone has heard of the Zero-Point Energy Field, and there are even experiments such as the Casimir and Wu experiments that confirm that this energy can be tapped into to do useful work.




The technology described in this manual is REAL, and fully explained by todays experimental physics and data. Every component will be detailed and every concept behind its operation revealed.

Posted by vlad on Tuesday, September 22, 2020 @ 21:28:43 GMT (124 reads)
(Read More... | 3482 bytes more | comments? | Score: 0)
Nano-diamond self-charging batteries could disrupt energy as we know it
Via NewAtlas: Here shown as a small, circuit board mounted design, the nano diamond battery has the potential to totally upend the energy equation since it never needs charging and lasts many, many years - NDB





California company NDB says its nano-diamond batteries will absolutely upend the energy equation, acting like tiny nuclear generators. They will blow any energy density comparison out of the water, lasting anywhere from a decade to 28,000 years without ever needing a charge. They will offer higher power density than lithium-ion. They will be nigh-on indestructible and totally safe in an electric car crash. And in some applications, like electric cars, they stand to be considerably cheaper than current lithium-ion packs despite their huge advantages.

Black silicon photodetector breaks the 100% efficiency limit
Via
Aalto University News: The efficiency was so high that at first the researchers had a hard time believing the result. Now Aalto University spin-off company ElFys Inc. already supplies the record detectors for several industry sectors.
UV-light triggers electron multiplication in nanostructures. Figure: Wisa Förbom
Aalto University researchers have developed a black silicon photodetector that has reached above 130% efficiency. Thus, for the first time, a single photovoltaic device has exceeded the 100% external quantum efficiency limit at UV. This result opens new avenues for improving efficiencies beyond the famous Shockley-Queisser limit.

Posted by vlad on Tuesday, August 18, 2020 @ 17:00:40 GMT (376 reads)
(Read More... | 4357 bytes more | comments? | Score: 0)
Does new physics lurk inside living matter?
Via
Physics Today
:
Does new physics lurk inside living matter?
by
Paul Davies
(Regents' Professor in the physics department at Arizona State University in Tempe and the director of the university's Beyond Center for Fundamental Concepts in Science).
The link between information and physics has been implicit since James Clerk Maxwell introduced his famous demon. Information is now emerging as a key concept to bridge physics and biology.
To a physicist, life looks like magic. Living things accomplish feats so dazzling, so enigmatic, that it's easy to forget they are made of ordinary atoms. But if the secret of life is not the stuff of which living things are made, then what is it? What gives organisms that distinctive élan that sets them apart as remarkable and special? That was the question posed by Erwin Schrödinger in a famous series of lectures delivered in Dublin, Ireland, in 1943, and published the following year as an influential book titled What Is Life?

BLP News & Updates - SUNCELL® POWER GAIN 10+
From Brilliant Light Power: SUNCELL® POWER GAIN 10+


We are engineering commercial thermal and electrical power sources wherein the SunCell® operates at high-temperature capable of providing 1000°C liquid gallium to a liquid-gallium-to-air heat exchanger to generate high temperature air for thermal loads and also power a Brayton cycle turbine to generate electrical power. We successfully tested an upgraded system to supply a more ideal hydrino reaction mixture that has pushed our gain to over ten times the input power at greater than 250 kW excess power and a corresponding power density of over 5 MW/liter. The results of these trials demonstrate the utility of SunCell® towards the goal of a commercial heater of several hundred kilowatts to service the greater than $8T/y thermal market and enable the integration of the heat exchanger into a Brayton cycle to produce electricity to service the electrical market.

Request for support for advanced scientific thinking initiatives
Andrew Michrowski writes: Scientific organization requests assistance for more initiatives

From the Planetary Association for Clean Energy Inc./ La Société planétaire pour l'assainissement de l'énergie, inc – PACE


The Planetary Association for Clean Energy (PACE) is a non-profit, charitable corporation whose objects are to facilitate the discovery, research, development, demonstration and evaluation of clean energy systems. PACE is an NGO Special Consultative status with the Economic and Social council of the United Nations (ECOSOC). Our work is possible through contributions by our generous supporters.
World first commercial long-range, wireless power transmission
Via
NewAtlas.com
:
NZ to trial world-first commercial long-range, wireless power transmission
By Loz Blain
Emrod's wireless power transmission devices can beam large amounts of electrical power between two points, with line of sight between relays the only limit on distance - Emrod
A New Zealand-based startup has developed a method of safely and wirelessly transmitting electric power across long distances without the use of copper wire, and is working on implementing it with the country's second-largest power distributor.

Posted by vlad on Wednesday, August 05, 2020 @ 15:44:07 GMT (309 reads)
(Read More... | 3463 bytes more | comments? | Score: 5)
The Idea of Entropy Has Led Us Astray
Via nautil.us: Let's stop hustling as if the world is running toward disorder.


By Aaron Hirsh July 1, 2020





...By returning to the Victorian origins of the laws of thermodynamics, we can see how—and, perhaps, why—those laws have been broadly misconstrued and misapplied. In the 19th century, the first textbooks on the science of thermodynamics emerged from the work of Rudolf Clausius, in Berlin, as well as William Thomson (often called Lord Kelvin) and William Rankine, both in Glasgow. Studying how machines, such as steam engines, could exchange heat for mechanical work and vice-versa, these physicists learned of strict limits on efficiency.

From EnergyFromTheVacuum.com: By William Doyle Jr. - The following is additional information that William Doyle has provided regarding the operation of the Cold Heat Motor that he says was one of his earliest write-ups. Edited from private correspondence.

'ZERO FUEL ENGINE' aka 'COLD HEAT ENGINE SYSTEM'

This electricity is of the Negative Radiant type, which offers way more flexibility to users. It was first shown in the USA by Nikola Tesla, way back in the Westinghouse financed Chicago Exposition before the year 1900!

Electromagnetic Proton Radiation/ Pressure Wave Energy in Combination With Sourcing Ambient Energy From The Vacuum.

Posted by vlad on Saturday, July 04, 2020 @ 22:27:47 GMT (394 reads)
(Read More... | 14462 bytes more | comments? | Score: 0)
Quantum fluctuations can jiggle objects on the human scale
Via MIT News: Study shows LIGO's 40-kilogram mirrors can move in response to tiny quantum effects, revealing the "spooky popcorn of the universe."



The universe, as seen through the lens of quantum mechanics, is a noisy, crackling space where particles blink constantly in and out of existence, creating a background of quantum noise whose effects are normally far too subtle to detect in everyday objects.




Now for the first time, a team led by researchers at MIT LIGO Laboratory has measured the effects of quantum fluctuations on objects at the human scale.

New "whirling" state of matter discovered in an element of the periodic table
Via Radboud University
:
The strongest permanent magnets today contain a mix of the elements neodymium and iron. However, neodymium on its own does not behave like any known magnet, confounding researchers for more than half a century. Physicists at Radboud University and Uppsala University have shown that neodymium behaves like a so-called 'self-induced spin glass,' meaning that it is composed of a rippled sea of many tiny whirling magnets circulating at different speeds and constantly evolving over time. The results will be published on 29th of May, in Science.
Understanding this new type of magnetic behaviour refines our understanding of elements on the periodic table and eventually could pave the way for new materials for artificial intelligence.

Posted by vlad on Wednesday, July 01, 2020 @ 15:51:55 GMT (621 reads)
(Read More... | 1946 bytes more | comments? | Score: 0)
Objective evidence of defect of the QED's standard interpretation
WGUGLINSKI writes: Dear Prof. Hiromichi Nakazato
Editor, European Physical Journal Plus

I am submitting for publication in the journal Physics Essays my paper entitled "Relation between QED, Coulomb's law, and fine-structure constant".

The paper was rejected for publication in the European Physical Journal Plus with the following Report, written by you:

The main idea of the paper is based on such classical notions like particle's motion and electric current and magnetic field seem to have been given fundamental roles. This is evident from the figures presented in the paper. These notions are untenable in microscopic world where the wave-particle duality is essential even if the author feels "strange" and the gauge field plays an essential role. They have been supported by experiments for many years. The paper will not be understood and never be accepted by any other physicists unless the author provides, not a subjective (like the one the author thinks "strange"), but an objective evidence of defect of the standard interpretation, which is missing in the present paper.
I think that the paper does not fulfill the scientific standards required by EPJPlus and thus reject it.
Yours sincerely
Hiromichi Nakazato
Editor, The European Physical Journal Plus
Amazon Announces $2 Billion Climate Pledge Fund
Amazon Announces $2 Billion Climate Pledge Fund to Invest in Companies Building Products, Services, and Technologies to Decarbonize the Economy and Protect the Planet
SEATTLE--(BUSINESS WIRE)--Amazon (NASDAQ:AMZN) today announced The Climate Pledge Fund to support the development of sustainable technologies and services that will enable Amazon and other companies to meet The Climate Pledge—a commitment to be net zero carbon by 2040. This dedicated venture investment program—with an initial $2 billion in funding—will back visionary companies whose products and services will facilitate the transition to a zero carbon economy.
Via Bloomberg.com: A Million-Mile Battery From China Could Power Your Electric Car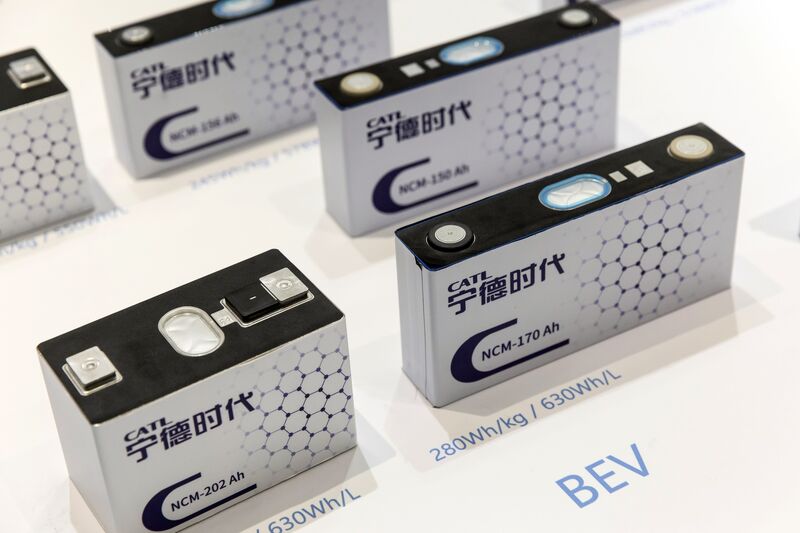 The Chinese behemoth that makes electric-car batteries for Tesla Inc. and Volkswagen AG developed a power pack that lasts more than a million miles -- an industry landmark and a potential boon for automakers trying to sway drivers to their EV models.
Contemporary Amperex Technology Co. Ltd. is ready to produce a battery that lasts 16 years and 2 million kilometers (1.24 million miles), Chairman Zeng Yuqun said in an interview at company headquarters in Ningde, southeastern China. Warranties on batteries currently used in electric cars cover about 150,000 miles or eight years, according to BloombergNEF.

Water-splitting module a source of perpetual energy
From Rice University: 'Artificial leaf' concept inspires Rice University research into solar-powered fuel production by Mike Williams/May 4, 2020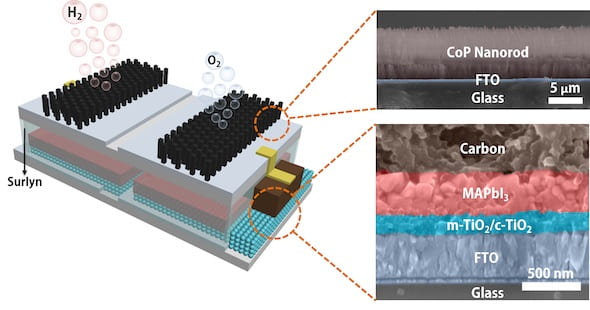 A schematic and electron microscope cross-section show the structure of an integrated, solar-powered catalyst to split water into hydrogen fuel and oxygen. The module developed at Rice University can be immersed into water directly to produce fuel when exposed to sunlight. Illustration by Jia Liang
Rice University researchers have created an efficient, low-cost device that splits water to produce hydrogen fuel. The platform developed by the Brown School of Engineering lab of Rice materials scientist Jun Lou integrates catalytic electrodes and perovskite solar cells that, when triggered by sunlight, produce electricity.
Don't have an account yet? You can create one. As a registered user you have some advantages like theme manager, comments configuration and post comments with your name.
Thursday, April 23, 2020
·
Path to the Fundamental Theory of Physics
Tuesday, April 21, 2020
·
NEM Upcoming Online Event
Monday, April 20, 2020
·
Ask Ethan: What Is The 'Zero-Point Energy' Of Space?
Friday, February 21, 2020
·
Radical hydrogen-boron reactor leapfrogs current nuclear fusion tech
Thursday, February 13, 2020
·
Latest News and Updates from Brilliant Light Power
·
An Open Secret
Sunday, January 26, 2020
·
A healthy economy should be designed to thrive, not grow
Thursday, January 23, 2020
·
Harnessing the entire spectrum of sunlight
Wednesday, January 08, 2020
·
The Presence of Latent Potential Energy in Space is Exposed by Geometry Alone
Sunday, January 05, 2020
·
Strange Group of Quantum Particles Are Basically Immortal
Wednesday, January 01, 2020
·
Polarizable Vacuum; Spacetime Metric Engineering
Saturday, December 14, 2019
·
"It Will Be The End Of Energy Companies"
Wednesday, December 11, 2019
·
The biggest battery breakthroughs of 2019
·
ARPA-E Provides Funding to Support Lower-Cost Fusion Energy Concepts
Tuesday, October 22, 2019
·
Star Trek Technology Patents
Monday, October 21, 2019
·
Exotic superconducting state
Friday, October 18, 2019
·
Brilliant Light Power News: SUNCELL® Pre-run Test
·
The New Earth Incubator Fund
Wednesday, October 16, 2019
·
ZPE and Canadian elections
·
Hidden Energy: gives reason to hope for a better future
Older Articles

If we are to survive, we must have ideas, vision, and courage.

-- Arthur M. Schlesinger Jr.