There are currently, 47 guest(s) and 0 member(s) that are online.

You are Anonymous user. You can register for free by clicking here
Welcome to ZPEnergy - The Energy of The Future


This is a NEWS PORTAL dedicated to experimental research on REVOLUTIONARY ENERGY TECHNOLOGIES. We propose to you to use this site as THE concentrator of choice for valuable news on the fascinating but still controversial subject of over-unity (O/U) fuel-less energetics (devices tapping the Zero Point Energy (ZPE)/ Vacuum/ Cosmic/ Ambient energy fields) and related. We want to let the general public know that this is an active field and good progress is made towards validating this technology and bringing the first commercial operational device to the market.



"Mighty, sublime, wonderful, as have been the achievements of past science, as yet we are but on the verge of the continents of discovery. Where is the wizard who can tell what lies in the womb of time? Just as our conceptions of many things have been revolutionized in the past, those which we hold to-day of the cosmic processes may have to be remodeled in the future. The men of fifty years hence may laugh at the circumscribed knowledge of the present and shake their wise heads in contemplation of what they will term our crudities, and which we now call progress. Science is ever on the march and what is new to-day will be old to-morrow."
-- Paul Severing, 1910 (from Marvels of Modern Science)
@------->>> SPECIAL ANNOUNCEMENTS <<<-------@
---> Dear ZPEnergy readers: In April this year (2020) ZPEnergy celebrates it's 19th year online. Unfortunately, the software running our website is old and it's increasingly difficult to maintain; we must upgrade ZPEnergy to more modern software but we need your support to do it properly. If any funds left, we are also looking into finalizing our Xtreme Science Foundation project (XSF) website. If you would like to help us in this endeavor, please send your Bitcoin donations to: 17Tm5WvZDvhdujABsK84tsPz8dLHg8NuLT , or use the PayPal option (SUPPORT ZPEnergy link).

We much appreciate your support and thank you for your generosity,
Vlad/moderator & Calin/webmaster <---

When (and if) the proposed XtremeScienceFoundation.org site will be up and running, some content from this site will be transferred to the new location and ZPEnergy.com will be available for sale to the public (use Feedback to contact us if you're interested).


For now, please read about the
XSF/XS-NRG Prize
in our
Special Sections
, in the
Stories Archive
and
Surveys
(comments).
Water-splitting module a source of perpetual energy
From Rice University: 'Artificial leaf' concept inspires Rice University research into solar-powered fuel production by Mike Williams/May 4, 2020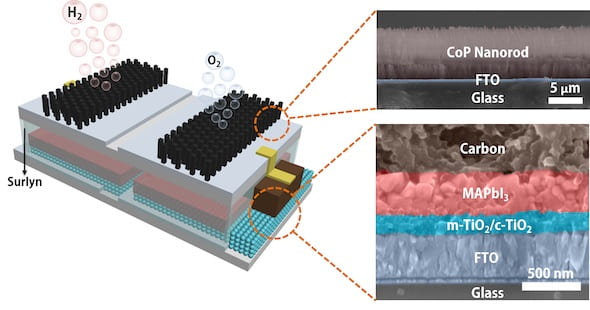 A schematic and electron microscope cross-section show the structure of an integrated, solar-powered catalyst to split water into hydrogen fuel and oxygen. The module developed at Rice University can be immersed into water directly to produce fuel when exposed to sunlight. Illustration by Jia Liang
Rice University researchers have created an efficient, low-cost device that splits water to produce hydrogen fuel. The platform developed by the Brown School of Engineering lab of Rice materials scientist Jun Lou integrates catalytic electrodes and perovskite solar cells that, when triggered by sunlight, produce electricity.
Path to the Fundamental Theory of Physics
From
Stephen Wolfram writtings
:
Finally We May Have a Path to the Fundamental Theory of Physics…and It's Beautiful
/ Apr14, 2020
I Never Expected This
It's unexpected, surprising—and for me incredibly exciting. To be fair, at some level
I've been working towards this for nearly 50 years
. But it's just in the last few months that it's finally come together. And it's much more wonderful, and beautiful, than I'd ever imagined.
Posted by vlad on Thursday, April 23, 2020 @ 13:27:21 MST (206 reads)
(Read More... | 2714 bytes more | comments? | Score: 0)
NEM Upcoming Online Event
From

https://newenergymovement.org/

: We are excited to host a FREE online gathering where we will be diving deep with the co-author of the new book Hidden Energy, Jeane Manning and NEM president Susan Manewich.




Among many things, we will be discussing:




* What makes new energy technologies different than others
* Looking to nature for guidance in developing harmonious technology ecosystem that serves humanity, not destroys it
* Current research and development efforts

Ask Ethan: What Is The 'Zero-Point Energy' Of Space?
From Forbes.com Editors' Pick by Ethan Siegel/ Senior Contributor/ Apr 18, 2020
Imagine, if you can, what it would mean to have a Universe with absolutely nothing in it. You could take all the various quanta of matter and energy and remove them, leaving a Universe with no particles or antiparticles of any type. You could remove any sources of gravitation or spatial curvature, reducing your Universe to nothing more than purely empty space. You could shield the Universe from any external electric, magnetic, or fields that exert a nuclear force, eliminating any possible influence they may have on the spacetime you're considering. Even if you do all that, you still wouldn't get "zero" on your balance sheet for the energy of the Universe...
Radical hydrogen-boron reactor leapfrogs current nuclear fusion tech
Via New Atlas: Radical hydrogen-boron reactor leapfrogs current nuclear fusion tech by Loz Blain

Australian company HB11 says it's well on the way to nuclear fusion energy generation without the radioactive fuels or super-high temperatures/kuligssen/Depositphotos




"We are sidestepping all of the scientific challenges that have held fusion energy back for more than half a century," says the director of an Australian company that claims its hydrogen-boron fusion technology is already working a billion times better than expected.

Posted by vlad on Friday, February 21, 2020 @ 17:40:43 MST (680 reads)
(Read More... | 3392 bytes more | 1 comment | Score: 5)
Latest News and Updates from Brilliant Light Power
From https://brilliantlightpower.com/news/: VALIDATION REPORTS:




Stephen Tse, Ph.D. Department of Mechanical and Aerospace Engineering, Rutgers University validated up to 340 kW of power produced by BrLP's proprietary hydrino plasma reaction maintained in its SunCell® using molten metal bath and water bath calorimetry.




Dr. Mark Nansteel, Ph.D. University of California, Berkeley and heat transfer expert validated up to 200 kW of power produced by BrLP's proprietary hydrino plasma reaction maintained in its SunCell® using molten metal bath calorimetry.
Posted by vlad on Thursday, February 13, 2020 @ 17:33:22 MST (477 reads)
(Read More... | 3549 bytes more | 1 comment | Score: 0)
Via E-Cat World: An Open Secret – The Scalable, Ubiquitous EVO at the Core of SAFIRE, the E-Cat SKL, the Suncell, Brown's Gas, and Virtually Every Exotic Energy Technology by Director




God, the creator of the universe, established the laws of the universe that govern not only the interaction of planets and stars but the processes that occur within atoms and the structure of the vacuum itself. With these rules or the "code" of reality entered, nature commenced. Those who are careful observers will note that many of the most important breakthroughs in a broad array of fields come from mimicking natural processes – whether biological or physical. Many life saving drugs are chemically altered forms of molecules found in plants, for example. Yet, in mankind's attempt to harness the power of the atom via nuclear fusion, all sorts of artificially imposed schemes have been attempted to produce and maintain the conditions scientists believe are essential. But the simplest route to an energy panacea has been largely ignored except by a minority of exceptional open minded theoreticians and experimentalists – learning to create man made, artificial ball lighting.
Posted by vlad on Thursday, February 13, 2020 @ 16:42:18 MST (681 reads)
(Read More... | 11258 bytes more | comments? | Score: 0)
A healthy economy should be designed to thrive, not grow
TED Talk by Oxford economist
Kate Raworth
.
What would a sustainable, universally beneficial economy look like? "Like a doughnut," says Oxford economist Kate Raworth. In a stellar, eye-opening talk, she explains how we can move countries out of the hole -- where people are falling short on life's essentials -- and create regenerative, distributive economies that work within the planet's ecological limits.

Posted by vlad on Sunday, January 26, 2020 @ 18:29:20 MST (364 reads)
(Read More... | 2247 bytes more | comments? | Score: 5)
Harnessing the entire spectrum of sunlight
From
Ohio State University
:
Chemistry finding could make solar energy more efficient
by Laura Arenschield/ Jan 20, 2020
Researchers have found a way to harness the entire spectrum of sunlight
Scientists for the first time have developed a single molecule that can absorb sunlight efficiently and also act as a catalyst to transform solar energy into hydrogen, a clean alternative to fuel for things like gas-powered vehicles.

This new molecule collects energy from the entire visible spectrum, and can harness more than 50% more solar energy than current solar cells can. The finding could help humans transition away from fossil fuels and toward energy sources that do not contribute to climate change.

Posted by vlad on Thursday, January 23, 2020 @ 12:37:30 MST (434 reads)
(Read More... | 3154 bytes more | comments? | Score: 4)
The Presence of Latent Potential Energy in Space is Exposed by Geometry Alone
Anonymous writes: One would never expect that the physical structure of what is commonly believed to be totally empty vacuum space, and the issue of whether or not it stores a large amount of potential energy, could be ascertained simply by considering a uniform straight-line motion.

If we express the motion in polar coordinates relative to any arbitrarily chosen origin, the form of the transverse acceleration terms displays an uncanny resemblance to the terms in electromagnetic induction. We can choose to believe that this is just a meaningless coincidence. But we can also choose to believe that this is telling us that inertial motion and the inertial forces have a physical cause that is closely related to the forces of electromagnetic induction. The electromagnetic induction forces themselves are rooted in the magnetic field that pervades all of space, yet whose physical origins are unknown to the textbooks. It's ironic that despite the fact space is known to contain gravitational and magnetic field lines, whose cause is not understood, that physicists are nevertheless adamant that space is totally empty, and that light waves propagate in this void without the need for any material substance to account for the vibrations.
Posted by vlad on Wednesday, January 08, 2020 @ 18:36:30 MST (806 reads)
(Read More... | 2235 bytes more | comments? | Score: 0)
Strange Group of Quantum Particles Are Basically Immortal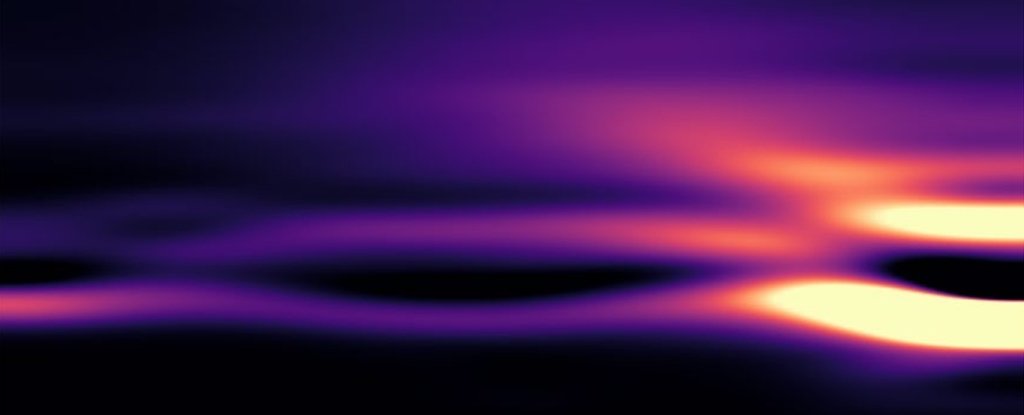 Via ScienceAlert.com: Nothing lasts forever. Humans, planets, stars, galaxies, maybe even the Universe itself, everything has an expiration date. But things in the quantum realm don't always follow the rules. Scientists have found that quasiparticles in quantum systems could be effectively immortal.

That doesn't mean they don't decay, which is reassuring. But once these quasiparticles have decayed, they are able to reorganise themselves back into existence, possibly ad infinitum.

This seemingly flies right in the face of the second law of thermodynamics, which asserts that entropy in an isolated system can only move in an increasing direction: things can only break down, not build back up again.
Posted by vlad on Sunday, January 05, 2020 @ 17:38:18 MST (346 reads)
(Read More... | 2252 bytes more | comments? | Score: 0)
Polarizable Vacuum; Spacetime Metric Engineering
The Institute for Advanced Studies at Austin was founded in 1985 by Harold Puthoff, PhD, and later incorporated under EarthTech International, Inc., in 1991 as an innovative research facility with a high‐powered creative staff dedicated to exploring the forefront reaches of science and engineering. Our research interests include theories of spacetime, gravity and cosmology; studies of the quantum vacuum; modifications of standard theories of electrodynamics; interstellar flight science; and the Search for Extraterrestrial Intelligence, specifically as these topics may apply to developing innovative space propulsion and sources of energy. We strive to translate these ideas into laboratory experiments.
Posted by vlad on Wednesday, January 01, 2020 @ 14:19:18 MST (858 reads)
(Read More... | 3046 bytes more | comments? | Score: 0)
"It Will Be The End Of Energy Companies"
New video posting
from
Dr. Steven Greer
(on the You Tube "Be Inspired" channel):
"It Will Be The End Of Energy Companies" | The FORBIDDEN Technology of Nikola Tesla
Another recent video post
featuring Dr. Greer (on the "Video Advice" channel) is:
"It Will Be an OPEN SOURCE Platform" [Ultra Classified Information!!!]
"What you have just heard; Only a handful of people on earth know, even in classified projects; Is highly compartmented. This is really way past TSSCI - Top Secret Special Compartmented Intelligence." | Dr. Steven Greer

Posted by vlad on Saturday, December 14, 2019 @ 21:35:37 MST (1240 reads)
(Read More... | 1154 bytes more | 1 comment | Score: 4)
The biggest battery breakthroughs of 2019
Via NewAtlas:
2019 provided us with a number of battery breakthroughs that could change how we power our grids, our devices and also our modes of transport
SergeyNivens/Depositphotos
Many corners of society stand to gain from advances in battery technology, from automakers, to manufacturers of consumer electronics to all that care about the environment. This year offered a little something for everybody with an interest in this area of science, bringing us tech that could charge electric vehicles in 10 minutes, batteries that suck carbon dioxide out of the air and news that the world's biggest battery is set to get even bigger. Here are the most significant battery breakthroughs of 2019.

Posted by vlad on Wednesday, December 11, 2019 @ 18:31:28 MST (1050 reads)
(Read More... | 1181 bytes more | 3 comments | Score: 0)
ARPA-E Provides Funding to Support Lower-Cost Fusion Energy Concepts
WASHINGTON, D.C. — The U.S. Department of Energy today announced up to $30 million in funding for a new Advanced Research Projects Agency-Energy (ARPA-E) program, Breakthroughs Enabling THermonuclear-fusion Energy (BETHE). BETHE projects will support the development of timely, commercially viable fusion energy, aiming to increase the number and performance levels of lower-cost fusion concepts.
"Successfully developing lower-cost fusion energy concepts would ensure U.S. leadership in this potentially game-changing energy technology," said ARPA-E Director Lane Genatowski, "Deployable, commercially viable fusion would offer reliable, low-carbon power."

Posted by vlad on Wednesday, December 11, 2019 @ 18:12:37 MST (824 reads)
(Read More... | 2659 bytes more | comments? | Score: 0)
HELP WANTED!
ZPEnergy.com
is looking for
Correspondents
to
Monitor
and
Report
on specific
New Energy
related
Science & Inventor Sites
and
Discussion Groups
. Especially, if you are a member following one or more of the
Discussion Groups
listed in our
Other Info-Sources
panel and want to be our
correspondent
for that particular list, we would like to hear from you. If you appreciate what we''re trying to do here and
want
to
join our team
, please use the
Feedback
or
Private Messages
[to Vlad] to contact us.
We
THANK YOU
for your support of our efforts to inform the public about
ideas, events and breakthroughs
in the energy field that we hope would soon
change the world
into a place we all dream to live in.
Important message
Don't have an account yet? You can create one. As a registered user you have some advantages like theme manager, comments configuration and post comments with your name.
Tuesday, October 22, 2019
·
Star Trek Technology Patents
Monday, October 21, 2019
·
Exotic superconducting state
Friday, October 18, 2019
·
Brilliant Light Power News: SUNCELL® Pre-run Test
·
The New Earth Incubator Fund
Wednesday, October 16, 2019
·
ZPE and Canadian elections
·
Hidden Energy: gives reason to hope for a better future
·
The Tom Bearden Website: Fire Sale
Friday, October 04, 2019
·
GlobalBEM 2019/Open-System Universe, Laviolette
Thursday, October 03, 2019
·
Quantum vacuum: Less than zero energy
Wednesday, September 11, 2019
·
SAFIRE Project 2019 Update
Friday, August 09, 2019
·
REGENERATIVE ACCELERATION ReGenX Technology
Tuesday, August 06, 2019
·
Focus: Light Seems to Pull Electrons Backward
Tuesday, July 30, 2019
·
Extraction of Zero-Point Energy from the Vacuum
Friday, July 26, 2019
·
Nassim Haramein talks unified physics with Dr. J!
Friday, July 12, 2019
·
Beat the heat
Thursday, July 04, 2019
·
The Earth Engine - Inductance Energy Corp. (IEC)
Wednesday, July 03, 2019
·
Self-Torque: Physicists Discover New Property of Light
·
First Class Space Agency
Thursday, June 27, 2019
·
Exotic Quantum States discovered in Double-Layer Graphene
Wednesday, June 26, 2019
·
New Exotic spiraling excitons found
Older Articles

Whenever you find yourself on the side of the majority, it's time to pause and reflect.

-- Mark Twain