There are currently, 218 guest(s) and 1 member(s) that are online.

You are Anonymous user. You can register for free by clicking here
Welcome to ZPEnergy - The Energy of The Future


This is a NEWS PORTAL dedicated to experimental research on REVOLUTIONARY ENERGY TECHNOLOGIES. We propose to you to use this site as THE concentrator of choice for valuable news on the fascinating but still controversial subject of over-unity (O/U) fuel-less energetics (devices tapping the Zero Point Energy (ZPE)/ Vacuum/ Cosmic/ Ambient energy fields) and related. We want to let the general public know that this is an active field and good progress is made towards validating this technology and bringing the first commercial operational device to the market.



"Mighty, sublime, wonderful, as have been the achievements of past science, as yet we are but on the verge of the continents of discovery. Where is the wizard who can tell what lies in the womb of time? Just as our conceptions of many things have been revolutionized in the past, those which we hold to-day of the cosmic processes may have to be remodeled in the future. The men of fifty years hence may laugh at the circumscribed knowledge of the present and shake their wise heads in contemplation of what they will term our crudities, and which we now call progress. Science is ever on the march and what is new to-day will be old to-morrow."
-- Paul Severing, 1910 (from Marvels of Modern Science)
@------->>> SPECIAL ANNOUNCEMENTS <<<-------@
---> Dear ZPEnergy readers: In April this year (2019) ZPEnergy celebrated it's 18th year online. Unfortunately, the software running our website is old and it's increasingly difficult to maintain; we must upgrade ZPEnergy to more modern software but we need your support to do it properly. If any funds left, we are also looking into finalizing our Xtreme Science Foundation project (XSF) website. If you would like to help us in this endeavor, please send your Bitcoin donations to: 17Tm5WvZDvhdujABsK84tsPz8dLHg8NuLT , or use the PayPal option (SUPPORT ZPEnergy link).

We much appreciate your support and thank you for your generosity,
Vlad/moderator & Calin/webmaster <---

When (and if) the proposed XtremeScienceFoundation.org site will be up and running, some content from this site will be transferred to the new location and ZPEnergy.com will be available for sale to the public (use Feedback to contact us if you're interested).


For now, please read about the
XSF/XS-NRG Prize
in our
Special Sections
, in the
Stories Archive
and
Surveys
(comments).
On the dark matter puzzle
Anonymous writes: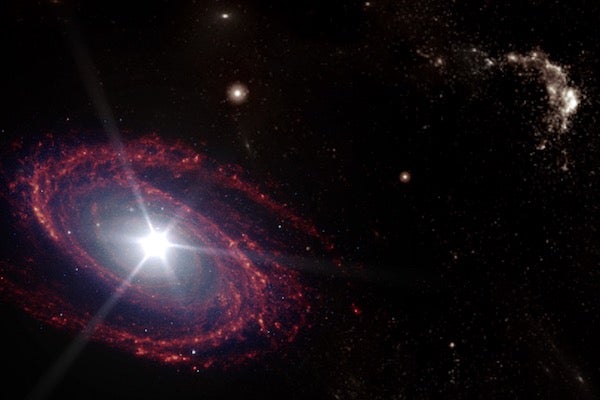 Via ScientificAmerican.com: Cosmology Has Some Big Problems /By Bjørn Ekeberg on April 30, 2019
The field relies on a conceptual framework that has trouble accounting for new observations

Credit: Thanapol Sisrang Getty Images


What do we really know about our universe?

Born out of a cosmic explosion 13.8 billion years ago, the universe rapidly inflated and then cooled, it is still expanding at an increasing rate and mostly made up of unknown dark matter and dark energy ... right?
Over-unity Slipped-pole Synchronous Generator Operation
DMB writes:
Website seems a little rough, but may have useful information concerning the possibility of retrofitting the power grid with over-unity slipped-pole synchronous generators that have been meta-stabilized by sharing a common torque shaft with a normally operating synchronous motor such that (Pout>Pin).
(Power out) and (Torque in) versus Rotor Angle (rad)
Retrofitting the Power Grid for over-unity Generation

Synchronous motor/generators, which power electrical grids world wide, are typically run in two of four possible quadrants of operation.

Pressure inside a proton?
Anonymous writes: Via Phys.org: Physicists calculate proton's pressure distribution for first time by Jennifer Chu, MIT

MIT physicists have calculated the pressure distribution inside a proton for the first time. They found the proton's high-pressure core pushes out, while the surrounding region pushes inward. Credit: Massachusetts Institute of Technology

Neutron stars are among the densest-known objects in the universe, withstanding pressures so great that one teaspoon of a star's material would equal about 15 times the weight of the moon. Yet as it turns out, protons—the fundamental particles that make up most of the visible matter in the universe—contain even higher pressures.
Brilliant Light Power News
Validation of Hydrino Reaction's Extraordinary High-Energy Continuum Light and Optical Power at over 1,000,000W Levels
Using three spectrometers power calibrated by NIST calibration light sources, the optical powers and spectra over the 20 nm to 800 nm region were absolutely determined on hydrated silver shots caused to detonate with a low-voltage, high current pulses. Continuum high-energy, extreme ultraviolet (EUV), radiation at megawatt average and 10-megawatt peak power levels were observed. The EUV spectrum matched theoretical predictions for the electronic transition of a hydrogen atom to the hydrino atomic state with a quantum number of ¼ catalyzed by nascent HOH.
New quantum imaging technique
Anonymous writes:
In quantum materials based on transition metals, rare-earth and actinide elements, electronic states are characterized by electrons in orbitals d and f, combined with the solid's strong band formation. Until now, to estimate the specific orbitals that contribute to the ground state of these materials and determine their physical properties, researchers have primarily relied on theoretical calculations and spectroscopy methods.

In a recent study published in Nature Physics, a team of researchers at Max Planck Institute Dresden, Heidelberg University, University of Cologne, and DESY- Hamburg attempted to image a material's active orbitals directly in real space, without any modeling. The imaging technique they devised is based on s-core level and non-resonant inelastic X-ray scattering.
Posted by vlad on Thursday, April 18, 2019 @ 17:32:55 EDT (223 reads)
(Read More... | 2733 bytes more | comments? | Score: 0)
Fluc­tu­a­tions in the void
In quantum physics, a vacuum is not empty, but rather steeped in tiny fluctuations of the electromagnetic field. Until recently it was impossible to study those vacuum fluctuations directly. Researchers at ETH Zurich have developed a method that allows them to characterize the fluctuations in detail.
Emptiness is not really empty – not according to the laws of quantum physics, at any rate. The vacuum, in which classically there is supposed to be "nothing," teems with so-called vacuum fluctuations according to quantum mechanics.

Light from exotic particle states
Anonymous writes: A new type of light-emitting diode has been developed at TU Wien. Light is produced from the radiative decay of exciton complexes in layers of just a few atoms thickness.

When particles bond in free space, they normally create atoms or molecules. However, much more exotic bonding states can be produced inside solid objects.

Researchers at TU Wien have now managed to utilise this: so-called "multi-particle exciton complexes" have been produced by applying electrical pulses to extremely thin layers of material made from tungsten and selenium or sulphur. These exciton clusters are bonding states made up of electrons and "holes" in the material and can be converted into light.
Proton puzzle still unsolved
Anonymous writes:
New data from the STAR experiment a the Relativistic Heavy Ion Collider (RHIC) add detail -- and complexity -- to an intriguing puzzle that scientists have been seeking to solve: how the building blocks that make up a proton contribute to its spin. The results, just published as a rapid communication in the journal Physical Review D, reveal definitively for the first time that different "flavors" of antiquarks contribute differently to the proton's overall spin -- and in a way that's opposite to those flavors' relative abundance.
Posted by vlad on Wednesday, April 10, 2019 @ 09:23:10 EDT (246 reads)
(Read More... | 1974 bytes more | comments? | Score: 0)
Anthony Craddock
writes: Did you know that The Tom Bearden Website contains a staggering 8,823 Internet files, and takes up about 1.6 Gb of space? Complete books, articles, slide shows, video, selected correspondence, research…it's all there.
The Table of Contents
section alone is a treasure trove of information.
Did you know, for example, that there is a great section on not only Biogenesis and Cloning, but also a caveat about the way that it is currently being done? And let's not forget the incredible density of energy that is all around us waiting to be harvested, an energy so dense that a cup of it could boil all the world's oceans.

Posted by vlad on Saturday, March 23, 2019 @ 19:31:52 EDT (472 reads)
(Read More... | 1515 bytes more | comments? | Score: 0)
Chirality Turns the Casimir Force Repulsive
Via
APS Physics
: March 4, 2019/
The Casimir force between two metal plates can be made repulsive, tunable, and enhanced, if a chiral material is inserted between the plates.
Bring two parallel, uncharged metal plates close together in a vacuum, and they will attract each other. In principle, this Casimir force could also be repulsive, something that is useful in certain applications, like keeping nanoscale objects apart. But for two plates of the same material that mirror each other, a famous "no-go" theorem says this isn't possible. Now Qing-Dong Jiang of Stockholm University and Frank Wilczek, who holds appointments at the Massachusetts Institute of Technology, Cambridge, and several other institutions, show that the Casimir force can be made repulsive, large, and tunable, by inserting a "chiral" material between the plates.

Focus: Noise Improves Flow of Energy
Via
APS Physics
: February 8, 2019 • Physics 12, 13
- A quantum effect in which random fluctuations help waves to propagate has been demonstrated in a chain of ten atoms.
Helpful noise. Disorder in the electronic states in a row of ten trapped calcium ions can disrupt the flow of energy among the ions. But adding noise to the system can boost the energy flow.
When electrons move in a conducting material or when energy absorbed from sunlight is shifted between molecules during photosynthesis, the process can be described using the wave equations of quantum mechanics. Wave interference can lead to a suppression of the transport of charge or energy, but, counterintuitively, random fluctuations such as thermal noise can actually improve this transport.

Posted by vlad on Monday, February 11, 2019 @ 12:20:10 EST (553 reads)
(Read More... | 2435 bytes more | comments? | Score: 0)
Flow Testing of a Cubic SunCell® Hydrino Reactor
In this test the SunCell® hydrino reactant gas mixture comprises hydrogen fuel added to argon at varying ratios and flow rates to determine the effect on power production. Trace gallium oxide inventory in a large reservoir of liquid gallium serves as a source of O for HOH catalyst. The gallium was injected from the reservoir to a counter electrode and recycled to maintain very low voltage atmospheric pressure plasma. The intensity of the sound of the reaction is indicative of the reaction energetics.
View the video of the hydrino plasma run on our

Videos page

or directly on YouTube.
Posted by vlad on Saturday, January 26, 2019 @ 10:35:12 EST (813 reads)
(Read More... | 2347 bytes more | comments? | Score: 5)
IEEE-Madison (Wisconsin) to hold Meeting on LENR on Jan 31st to View E-Cat Prese
Via e-catworld.com: Thanks to Thomas Kaminski for letting me know about a meeting to be held by the IEEE-Madison (Wisconsin) Entrepreneurs and Consultants Network on January 31st 2019 about LENR. The meeting will coincide with Leonardo Corporation's online presentation of the E-Cat SK, and attendees will watch the event and discuss it afterwards.




The meeting will be held at the Sector67 Community Workspace / Hackerspace / Makerspace at 56 Corry St. Madison, Wisconsin, and will start at 7:45 am local time. The meeting is free and open to the public.




More details are available at this link:
Posted by vlad on Monday, January 14, 2019 @ 08:50:05 EST (1632 reads)
(Read More... | 999 bytes more | comments? | Score: 0)
2018 Update on Brillouin Energy and its LENR Work
In picture is Robert Godes holding a catalytic rod. They believe that sending many short electric pulses down the rods that they are producing the conditions that generate extra heat. There is a di-electric layer with appropriate materials.
Via
NextBigFuture
: Brillouin Energy has made progress since the 2016 SRI report. The 2017 SRI report indicated that the reactions were at a few watts and fairly reliable coefficient of power (COP) of 1.2 to 1.4 and 2 to 3 watts of reaction heat. The 2017 SRI report showed 4 to 6 watts of reaction heat and COP of up to 1.6. Since that report, Brillouin is now at about 50 watts of input and 100 watt of output. The coefficient of power is currently claimed to be reliablly and consistently at 2 in their recent tests.
Posted by vlad on Thursday, December 27, 2018 @ 10:25:05 EST (953 reads)
(Read More... | 1743 bytes more | comments? | Score: 0)
One-Way Transfer of Magnetic Fields
Via
APS-Physics
: Researchers have created a material that acts as a magnetic diode, transferring magnetism from one object to another but not the other way around.
Jordi Prat-Camps creates magnetic metamaterials—structures that manipulate magnetic fields in unconventional ways. Over the last few years, the physicist, who is at the University of Sussex in the UK, and his colleagues have constructed a cloak that makes objects invisible to magnetic fields and a "wormhole" that directs a magnetic field between two points in space along an invisible tunnel, as well as other things. Their latest material—which acts as a magnetic diode—enables unidirectional transfer of a magnetic field between two objects. Prat-Camps says that such a device could increase the efficiency of magnetic-based wireless power-transfer systems.
Posted by vlad on Monday, November 26, 2018 @ 13:35:45 EST (967 reads)
(Read More... | 2620 bytes more | comments? | Score: 0)
HELP WANTED!
ZPEnergy.com
is looking for
Correspondents
to
Monitor
and
Report
on specific
New Energy
related
Science & Inventor Sites
and
Discussion Groups
. Especially, if you are a member following one or more of the
Discussion Groups
listed in our
Other Info-Sources
panel and want to be our
correspondent
for that particular list, we would like to hear from you. If you appreciate what we''re trying to do here and
want
to
join our team
, please use the
Feedback
or
Private Messages
[to Vlad] to contact us.
We
THANK YOU
for your support of our efforts to inform the public about
ideas, events and breakthroughs
in the energy field that we hope would soon
change the world
into a place we all dream to live in.
Important message
Don't have an account yet? You can create one. As a registered user you have some advantages like theme manager, comments configuration and post comments with your name.
Sunday, November 18, 2018
·
Nanotubes may give the world better batteries
Monday, November 05, 2018
·
Why DARPA Is Betting a Million Bucks on an "Impossible" Space Drive
Wednesday, October 17, 2018
·
"Electron Structure, Ultra-Dense Hydrogen and Low Energy Nuclear Reactions"
Tuesday, October 16, 2018
·
Wigner crystal—not Mott insulator—in 'magic-angle' graphene
Monday, October 01, 2018
·
Disruptive Technologies Go Black
Sunday, September 30, 2018
·
LENR Explanations - Intermittent, Haphazard Deuterium Ion Linear Alignment?
Thursday, September 27, 2018
·
LENR Experimentalist
Saturday, September 15, 2018
·
Harnessing Zero-Point Energy
Friday, September 07, 2018
·
Rossi Effect finally deciphered
Wednesday, September 05, 2018
·
Planck's law of radiative heat transfer fails at nanoscale
Monday, September 03, 2018
·
Canadians and the low carbon economy action
Sunday, August 26, 2018
·
IRI - Future Energy eNews (Aug 2018)
Tuesday, August 14, 2018
·
Genesys eRET - 24/7 power from solar ...
Monday, August 06, 2018
·
Hothouse Earth
Friday, August 03, 2018
·
Proposed theoretical explanation for LENR
·
Latest from W. Guglinski theoretical research
Thursday, July 26, 2018
·
TTS Academy Announces The ADAM Research Project
Tuesday, July 10, 2018
·
World record for direct solar water-splitting efficiency
Thursday, July 05, 2018
·
Proven: Graphene Makes Multiple Electrons From Light
Friday, June 29, 2018
·
Ervin László and The Zero-Point Akashic Field
Older Articles

When nothing is sure, everything is possible.

-- Margaret Drabble