There are currently, 118 guest(s) and 0 member(s) that are online.

You are Anonymous user. You can register for free by clicking here
Welcome to ZPEnergy - The Energy of The Future


This is a NEWS PORTAL dedicated to experimental research on REVOLUTIONARY ENERGY TECHNOLOGIES. We propose to you to use this site as THE concentrator of choice for valuable news on the fascinating but still controversial subject of over-unity (O/U) fuel-less energetics (devices tapping the Zero Point Energy (ZPE)/ Vacuum/ Cosmic/ Ambient energy fields) and related. We want to let the general public know that this is an active field and good progress is made towards validating this technology and bringing the first commercial operational device to the market.



"Mighty, sublime, wonderful, as have been the achievements of past science, as yet we are but on the verge of the continents of discovery. Where is the wizard who can tell what lies in the womb of time? Just as our conceptions of many things have been revolutionized in the past, those which we hold to-day of the cosmic processes may have to be remodeled in the future. The men of fifty years hence may laugh at the circumscribed knowledge of the present and shake their wise heads in contemplation of what they will term our crudities, and which we now call progress. Science is ever on the march and what is new to-day will be old to-morrow."
-- Paul Severing, 1910 (from Marvels of Modern Science)
@------->>> SPECIAL ANNOUNCEMENTS <<<-------@
---> Dear ZPEnergy readers: In April this year (2017) ZPEnergy will celebrate it's 16th year online. Unfortunately, the software running our website is old and it's increasingly difficult to maintain; we must upgrade ZPEnergy to more modern software but we need your support to do it properly. If any funds left, we are also looking into finalizing our Xtreme Science Foundation project (XSF) website. If you would like to help us in this endeavor, please send your Bitcoin donations to: 17Tm5WvZDvhdujABsK84tsPz8dLHg8NuLT , or use the PayPal option (Support ZPEnergy link).

We much appreciate your support; thank you for your generosity,
Vlad/moderator & Calin/webmaster <---

When (and if) the proposed XtremeScienceFoundation.org site will be up and running, some content from this site will be transferred to the new location and ZPEnergy.com will be available for sale to the public (use Feedback to contact us if you're interested).
For now, please read about the XSF/XS-NRG Prize in our Special Sections, in the Stories Archive and Surveys (comments).





CERN Declares War On The Standard Model
by Matt Williams (UniverseToday.com): Ever since the discovery of the Higgs Boson in 2012, the Large Hadron Collider has been dedicated to searching for the existence of physics that go beyond the Standard Model. To this end, the Large Hardon Collider beauty experiment (LHCb) was established in 1995, specifically for the purpose of exploring what happened after the Big Bang that allowed matter to survive and create the Universe as we know it.

Since that time, the LHCb has been doing some rather amazing things. Since that time, the LHCb has been doing some rather amazing things. This includes discovering five new particles, uncovering evidence of a new manifestation of matter-antimatter asymmetry, and (most recently) discovering unusual results when monitoring beta decay. These findings, which CERN announced in a recent press release, could be an indication of new physics that are not part of the Standard Model.
Posted by vlad on Saturday, April 22, 2017 @ 19:42:46 EDT (371 reads)
(Read More... | 3404 bytes more | 1 comment | Score: 0)
The Curious Case of Free Energy Device
Via KeelyNet.com: There are tons of free energy device designs and videos about them out there. But are they real?

The real scheme is to collect views which can pay lots of easy money if you can get attention to your video. Truth has nothing to do with it. Roughly $2,000USD per million views. Check these out;

-Free Energy Magnet Motor fan used as Free Energy Generator "Free Energy" light bulb! - 20,801,444 views
-free energy generator - outside - filmed in one take - 9,635,308 views
-3000 Watt Generator Powers Itself, Grinder & Drill Press - 6,682,307 views
-Electricite gratuite et infinie pour tous - 1,730,937 views
-Free Energy Generator 100% Self Runing, From Pakistan KPK, Noman Shah Afridi from Norway 2 - 1,675,465 views
-Free Energy Generator - Magic Lamp - Explaining the Trick - 1,545,545 views
-OPEN CHALLENGE TO ALL THE ENGINEERS, in sha ALLAH, this invention will change the world - 1,512,529 views
-Free Energy Magnetic Resonator Works - 1,492,198 views
-Electromagnetic generator 10 kW Free energy device - 623,692 views
Posted by vlad on Saturday, April 22, 2017 @ 19:21:00 EDT (407 reads)
(Read More... | 4551 bytes more | comments? | Score: 0)
Maxwell Simmetry gone bye bye?
Anonymous writes:
Radio waves, microwaves and even light itself are all made of electric and magnetic fields. The classical theory of electromagnetism was completed in the 1860s by James Clerk Maxwell. At the time, Maxwell's theory was revolutionary, and provided a unified framework to understand electricity, magnetism and optics. Now, new research led by LSU Department of Physics & Astronomy Assistant Professor Ivan Agullo, with colleagues from the Universidad de Valencia, Spain, advances knowledge of this theory. Their recent discoveries have been published in Physical Review Letters.
Posted by vlad on Thursday, April 13, 2017 @ 08:42:38 EDT (526 reads)
(Read More... | 2594 bytes more | comments? | Score: 0)
This Strange Light Particle Behaviour Challenges Our Understanding of Quantum Th
Anonymous writes: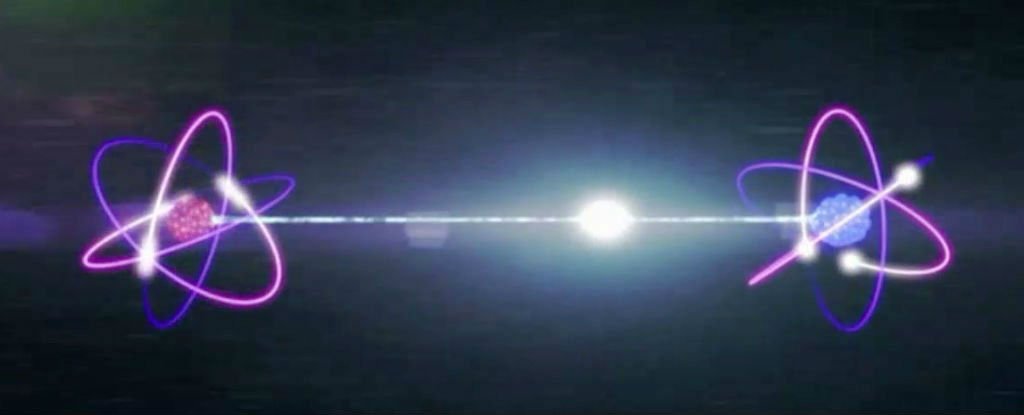 It's even spookier than we predicted.
Scientists investigating how light particles (or photons) experience entanglement on the quantum scale have discovered something entirely unexpected, and it challenges long-held assumptions about the initial moments of what Einstein referred to as "spooky action at a distance".
When the team created entangled pairs of photons, these particles didn't originate in the same place and break away as predicted - they emerged from entirely different points in space, which means quantum theory might have to account for a whole lot more randomness than we thought.
Posted by vlad on Thursday, April 13, 2017 @ 08:36:44 EDT (384 reads)
(Read More... | 1907 bytes more | comments? | Score: 0)
How did the proton get its spin?
Anonymous writes:
Calculating a proton's spin used to be an easy college assignment. In fact, Carl Gagliardi remembers answering that question when he was a physics graduate student in the 1970s. But the real answer turned out not to be simple at all. Even Gagliardi's "right" response was disproven by experiments a few years later that turned the field upside-down.

Protons are one of the three particles that make up atoms, the building blocks of the universe. A proton's spin is one of its most basic properties. Because protons are in part made up of quarks, scientists presumed the proton spins were just the sum of the quark spins.

Posted by vlad on Thursday, April 13, 2017 @ 08:24:14 EDT (402 reads)
(Read More... | 1306 bytes more | comments? | Score: 0)
"These Concepts Have Been Proven In 100s of Lab's Around The World"
Via Nexusnewsfeed.com: Dr. Brian O'Leary, Ph.D, scientist, author, Princeton/Cornell physics professor, and former NASA astronaut, was filmed shortly before his passing stating that over-unity devices are indeed real, and that "these concepts have been proven in hundreds of laboratories around the world, but have not really seen the light of day."

We are talking about a well educated person who has been working in and involved with science and technology at the highest known levels. He held multiple positions at various universities and worked with the likes of Carl Sagan, among many others. A quick Google search would suffice if you are looking for more information regarding his academic background. He was (obviously) extremely passionate about changing the world and we can see that passion expressed clearly in this video, presented at the United Nations shortly before his passing.
Infinity SAV© – Electromagnetic Generator 10kW ~ Russians Create Free Energ
Via KeelyNet.com: Caveat Emptor, we have no verifiable proof of any of their claims. - JWD

[from their website]: Potential Overseas Representatives Wanted

For more than 3 years our team has been developing a fossil fuel free generator which is able to generate energy. We have conducted a scientific research and have achieved a few fully functioning models. At present the company Infinity SAV is preparing to launch a mass production of a fuel free generator for consumers. We will manufacture the first 100 units of fuel free generator which will exclusively be handed to our distributors. Now our company is actively looking for distributors from all countries...We are located in Seoul, South Korea

Newly discovered phenomenon accelerates electrons as they enter a viscous state
Anonymous writes:
A new finding by physicists at MIT and in Israel shows that under certain specialized conditions, electrons can speed through a narrow opening in a piece of metal more easily than traditional theory says is possible.

This "superballistic" flow resembles the behavior of gases flowing through a constricted opening, however it takes place in a quantum-mechanical electron fluid, says MIT physics professor Leonid Levitov, who is the senior author of a paper describing the finding that appears this week in the Proceedings of the National Academy of Sciences.
Posted by vlad on Thursday, March 09, 2017 @ 21:55:42 EST (895 reads)
(Read More... | 1651 bytes more | comments? | Score: 0)
Internal structure of proton is still a mystery
Anonymous writes:
OLYMPUS experiment sheds light on structure of protons (from phys.org)

A mystery concerning the structure of protons is a step closer to being solved, thanks to a seven-year experiment led by researchers at MIT.

For many years researchers have probed the structure of protons—subatomic particles with a positive charge—by bombarding them with electrons and examining the intensity of the scattered electrons at different angles.

In this way they have attempted to determine how the proton's electric charge and magnetization are distributed. These experiments had previously led researchers to assume that the electric and magnetic charge distributions are the same, and that one photon—an elementary particle of light—is exchanged when the protons interact with the bombarding electrons.
Posted by vlad on Saturday, March 04, 2017 @ 15:17:59 EST (1036 reads)
(Read More... | 2910 bytes more | comments? | Score: 0)
A Forgotten War Tech Could Safely Power Earth for Millions of Years
But here's why we're not using it.

DAVE MOSHER, BUSINESS INSIDER/ 1 MAR 2017 (www.sciencealert.com)

...Today's cheap, bountiful supplies make it hard to see humanity's looming energy crisis, but it's possibly coming within our lifetimes...

...The good news is that a proven solution is at hand - if we want it badly enough...

..."It's reliable, it's clean, it basically does everything fossil fuel does today," Kirk Sorensen, the chief technology officer of nuclear-energy startup Flibe Energy, told Business Insider...

[The Molten Salt Reactor Experiment in 1964. Image: Oak Ridge National Laboratory]
Posted by vlad on Saturday, March 04, 2017 @ 13:34:59 EST (1221 reads)
(Read More... | 4316 bytes more | comments? | Score: 0)
First Evidence That Superconductivity Can Be Left- or Right Handed
Where electricity flows without resistance... but only in one direction.

FIONA MACDONALD/ 28 FEB 2017 (www.sciencealert.com)

Scientists have found the first evidence that superconductivity, one of the most intriguing and lucrative phenomena in physics, can be left- or right-handed. Or, more accurately, that superconducting materials can display chirality.

Chirality is frequently seen in nature - chiral materials are those that have mirror image versions of themselves that aren't identical, just like a left and a right hand. But until now, chirality and superconductivity - the ability for a material to transmit electricity with zero resistance - had never been found in the same material.
Posted by vlad on Saturday, March 04, 2017 @ 13:15:43 EST (1052 reads)
(Read More... | 2017 bytes more | comments? | Score: 0)
Quality of Elsevier's Author Support
WGUGLINSKI writes: Yesterday, 1st March 2017, I received from Elsevier the following email:

============================================================
From: Elsevier Author Feedback
Sent: Wednesday, March 1, 2017 11:07 AM
To: wladimirguglinski@_
Subject: Quality of Elsevier's Author Support

Dear Dr. Guglinski,

I am contacting you because you recently received a final decision on your article submitted to Annals of Physics

We are conducting a short research study to see how satisfied you are with the way your article was managed. Your responses will be used to help improve the publication services we currently offer.

It will only take about 10 minutes to complete the survey online, and your feedback is very important to ensure the accuracy of the research.

If you encounter any problems during the survey, please contact surveys@elsevier.com

Yours sincerely,
Louise Hall
Market Research

Posted by vlad on Thursday, March 02, 2017 @ 22:54:18 EST (1068 reads)
(Read More... | 5884 bytes more | comments? | Score: 1)
Open Letter to Professor Michio Kaku
This is a letter sent (2009) to Michio Kaku by Robert W. Koontz, Ph.D., Experimental Nuclear Physicist (from his site: http://www.doctorkoontz.com/): Open Letter to Professor Michio Kaku: "You Could Be Sued for Millions and Ridiculed for Centuries"

Dear Dr. Kaku:

This open letter relates to your disparagement of energy-producing devices which at this juncture in time are demonstrably critical to our nation's survival. And I write this letter as a Ph.D. experimental nuclear physicist with qualifications that I believe allow me to speak to the subject in question, namely production of energy using nonconventional means.

I ask that you read this letter carefully and ask that you not dismiss it out of hand in the manner of many of our country's physicists.
Posted by vlad on Wednesday, February 15, 2017 @ 17:24:30 EST (1602 reads)
(Read More... | 10467 bytes more | 1 comment | Score: 0)
Rick Friedrich R-Charge Scam
Via energeticforum.com: This just came up in Google when looking for some EnergenX links: https://rickfriedrich.wordpress.com

Read the blog - In the early to mid 2000's, Rick Friedrich proposed a business deal to EnergenX, Inc., a company headed up by a world famous electrical engineer, John Bedini. Rick Friedrich's desire was to private label battery chargers and rejuvenators built by John Bedini's company. Rick Friedrich's company name was Renaissance Charge or R-Charge for short.

Rick Friedrich signed a non-disclosure agreement with EnergenX and promised to respect the confidentiality of John Bedini's proprietary information that went into the chargers. This intellectual property was the sole property of John Bedini and EnergenX.
Posted by vlad on Monday, February 13, 2017 @ 16:11:40 EST (1423 reads)
(Read More... | 4641 bytes more | 1 comment | Score: 0)
The Etheric Origins of Gravity, Electricity, and Magnetism
From montalk.net/Research Notes: There is a beautiful unity underlying gravity, electricity, and magnetism. This unity may be expressed mathematically, but here it will be shown visually because doing so allows a quicker and more direct understanding of the geometric reality often obscured by mathematical abstraction.

These diagrams show how electric, magnetic, gravitational, and potential fields all arise from various kinds of distortions in a single field called the scalar superpotential. This field is also know as the ether, or the medium in which everything physical exists.

The term "scalar" just means that each coordinate in the field is associated with a single measurement value. The way this value varies over space and time determines what kind of secondary field arises from the superpotential. The unit of measurement is the Weber, which is a unit of pure magnetic flux.

Posted by vlad on Thursday, February 09, 2017 @ 16:56:10 EST (1400 reads)
(Read More... | 3183 bytes more | comments? | Score: 4)
HELP WANTED!
ZPEnergy.com
is looking for
Correspondents
to
Monitor
and
Report
on specific
New Energy
related
Science & Inventor Sites
and
Discussion Groups
. Especially, if you are a member following one or more of the
Discussion Groups
listed in our
Other Info-Sources
panel and want to be our
correspondent
for that particular list, we would like to hear from you. If you appreciate what we''re trying to do here and
want
to
join our team
, please use the
Feedback
or
Private Messages
[to Vlad] to contact us.
We
THANK YOU
for your support of our efforts to inform the public about
ideas, events and breakthroughs
in the energy field that we hope would soon
change the world
into a place we all dream to live in.
Important message
Don't have an account yet? You can create one. As a registered user you have some advantages like theme manager, comments configuration and post comments with your name.
Thursday, February 09, 2017
·
Industrial Heat Expands LENR Research, Boeing Rossi Connection Claimed
Saturday, January 28, 2017
·
Scientists have confirmed a brand new form of matter: time crystals
·
Compressed Orbits and the Secret Behind E = mc²
·
Physicists have found a metal that conducts electricity but not heat
Saturday, January 21, 2017
·
$20 Million+ XPrize for Abundant Clean Energy Technologies
Thursday, January 19, 2017
·
The John Searl Story- Searl Effect Generator (video)
Thursday, January 05, 2017
·
Berkeley Clean Technology Company Announces Breakthrough for LENR Power Devices
Sunday, January 01, 2017
·
Invention Secrecy Activity in 2016
Tuesday, December 20, 2016
·
5 Scientific Myths You Probably Believe About The Universe
Monday, December 12, 2016
·
Bill Gates Launches $1 Billion Breakthrough Energy Investment Fund
Sunday, December 11, 2016
·
VOLATILE VACUUMS (25 years ago)
Friday, December 02, 2016
·
C&En News Fails to Address Errors in Reporter's "Cold Fusion" article
·
'Diamond-age' of power generation as nuclear batteries developed
·
5 Incredible Suppressed Inventions Video
Thursday, November 24, 2016
·
SPACE IS NOT EMPTY: WHAT THE WHOLE WORLD SHOULD KNOW ABOUT "THE QUANTUM VACUUM"
Monday, November 14, 2016
·
Steorn Liquidates
Sunday, November 13, 2016
·
New Energy Technologies: What Can We Believe?
·
Prominent Scientists React to Trump's Win
Thursday, November 10, 2016
·
New subatomic structure?
Monday, November 07, 2016
·
R.I.P. John Bedini
Older Articles

If no one is pissed-off with you then you are dead but just haven't figured it out yet.

-- Tom Peters