There are currently, 77 guest(s) and 1 member(s) that are online.

You are Anonymous user. You can register for free by clicking here
Welcome to ZPEnergy - The Energy of The Future


This is a NEWS PORTAL dedicated to experimental research on REVOLUTIONARY ENERGY TECHNOLOGIES. We propose to you to use this site as THE concentrator of choice for valuable news on the fascinating but still controversial subject of over-unity (O/U) fuel-less energetics (devices tapping the Zero Point Energy (ZPE)/ Vacuum/ Cosmic/ Ambient energy fields) and related. We want to let the general public know that this is an active field and good progress is made towards validating this technology and bringing the first commercial operational device to the market.



"Mighty, sublime, wonderful, as have been the achievements of past science, as yet we are but on the verge of the continents of discovery. Where is the wizard who can tell what lies in the womb of time? Just as our conceptions of many things have been revolutionized in the past, those which we hold to-day of the cosmic processes may have to be remodeled in the future. The men of fifty years hence may laugh at the circumscribed knowledge of the present and shake their wise heads in contemplation of what they will term our crudities, and which we now call progress. Science is ever on the march and what is new to-day will be old to-morrow."
-- Paul Severing, 1910 (from Marvels of Modern Science)
@------->>> SPECIAL ANNOUNCEMENTS <<<-------@
---> Dear ZPEnergy readers: In April this year (2015) ZPEnergy celebrates it's 14th year online. Unfortunately, the software running our website is old and it's increasingly difficult to maintain; we must upgrade ZPEnergy to more modern software but we need your support to do it properly. If any funds left, we are also looking into finalizing our Xtreme Science Foundation project (XSF) website. If you would like to help us in this endeavor, please send your Bitcoin donations to: 17Tm5WvZDvhdujABsK84tsPz8dLHg8NuLT ,or use the PayPal option (Support ZPEnergy link).

We much appreciate your support; thank you for your generosity,
Vlad/moderator & Calin/webmaster <---

When (and if) the proposed XtremeScienceFoundation.org site will be up and running, some content from this site will be transferred to the new location and ZPEnergy.com will be available for sale to the public (use Feedback to contact us if you're interested).
For now, please read about the XSF/XS-NRG Prize in our Special Sections, in the Stories Archive and Surveys (comments).


What Explains The Rise of Humans?
From IEET, Institute for Ethics & Emerging Technologies (The IEET is a nonprofit think tank which promotes ideas about how technological progress can increase freedom, happiness, and human flourishing in democratic societies.):

Seventy thousand years ago, our human ancestors were insignificant animals, just minding their own business in a corner of Africa with all the other animals. But now, few would disagree that humans dominate planet Earth; we've spread to every continent, and our actions determine the fate of other animals (and possibly Earth). How did we get from there to here? Historian Yuval Noah Harari suggests a surprising reason for the rise of humanity.

(Interesting presentation; thanks to Peter Gluck and his Ego Out for the tip).

Posted by vlad on Sunday, August 30, 2015 @ 15:19:02 EDT (191 reads)
(comments? | Score: 0)
Theory explaining Electromagnetic energy without radiation
From Next Big Future site: Theory explaining Electromagnetic energy without radiation could be important physics breakthrough


Physicists have found a radical new way confine electromagnetic energy without it leaking away, akin to throwing a pebble into a pond with no splash.

The theory could have broad ranging applications from explaining dark matter to combating energy losses in future technologies.

However, it appears to contradict a fundamental tenet of electrodynamics, that accelerated charges create electromagnetic radiation, said lead researcher Dr Andrey Miroshnichenko from The Australian National University (ANU).
Posted by vlad on Friday, August 28, 2015 @ 21:23:50 EDT (3832 reads)
(Read More... | 1856 bytes more | 1 comment | Score: 4.5)
Rossi has been granted US patent on the E-Cat — fuel mix specified
Mats Lewan writes on his "Impossible Invention" blog: (Last updated on August 25, 9.17 pm CET). Today Andrea Rossi was granted a patent on his LENR based heating device the E-Cat. The patent, which has the filing date March 14, 2012, can be downloaded here: US9115913B1

As far as I understand, the patent describes the so-called low temperature E-Cat that Rossi showed in semi-public demonstrations at several occasions in 2011, and which is also used in an ongoing 350-day trial of a 1 MW plant, but since it describes core parts of the technology it is probably also valid at a certain extent also for more recent E-Cat models with higher operating temperature.

Note that LENR is not mentioned explicitly in the patent, but also note that the contents of the fuel mix are specified — lithium and lithium aluminium hydride as fuel and a group 10 element, such as nickel in powdered form as the catalyst. This is important since fuel and catalyst specifications are lacking from an earlier patent application by Rossi on the E-Cat.
A Must Read: "The End of the Fossil Fuel Age"
by Ian Walker (via: Sifferkoll): Big Oil, Saudi Arabia, the merchant banks and markets all think fossil fuel has had its day, a bold statement, where is the evidence for it?

If you had been taking any notice you would have seen Big Oil have been selling of their Oil Fields and getting out of the oil field asset ownership market since September 2011.
Is what I am writing true?
Why would they believe the Fossil Fuel Age has ended?

It is basic due diligence to find out what the big players are doing. So do a Google search for any oil company name and the phrase "Oil field" and the words divest or sell. You will see evidence like the following:

Manufactured multilayer magnetism
From PhysicsToday: Having the right neighbor prompts copper and manganese to join the short list of magnetic elements. /Sung Chang/ 06 August 2015


Ferromagnets are often described as a collection of atomic dipole moments all pointing in the same direction. But itinerant magnets—like iron, nickel, and cobalt—whose magnetic properties originate in the conduction electrons require a more sophisticated explanation. Nearly 80 years ago, Edmund Stoner showed that the conduction electron band in those systems splits into two subbands—one each for spin-up and spin-down electrons—that are shifted in energy relative to each other. Further, the splitting can occur only if the dimensionless product of the electronic density of states and the strength of the magnetic exchange between electrons is greater than one.

Posted by vlad on Tuesday, August 11, 2015 @ 19:49:34 EDT (709 reads)
(Read More... | 1438 bytes more | comments? | Score: 0)
Spin and rotation: gravity, magnetism and star formation
by Sepp Hasslberger: What are the underlying causes of gravity and magnetism? For me, this has been a slowly maturing concept. I am sharing my thoughts here and would like to get your feedback. Yes, I am going against much of the "received wisdom" of science. Just take these thoughts as a pointer, an invitation to look at things from a different point of view. Perhaps much of this will be found correct as time passes, but then ... perhaps not.

Why physicists must accept the aether back
WGUGLINSKI writes: To: Dr. Ludwik Kostro, University of Gdansk (author of the book "Einstein and the Ether")


Dear Dr. Kostro,

I would like to explain something you did not understand: why Einstein did not succeed to bring back the aether to Physics after 1916.

As you know, in the 19th Century the physicists have supposed that the light moves by waves in the aether like the water waves move in the surface of a lake. Such concept of aether is known as "luminiferous-eather".

Posted by vlad on Monday, August 03, 2015 @ 22:59:11 EDT (1379 reads)
(Read More... | 10987 bytes more | 1 comment | Score: 3.33)
Future Energy eNews - July 2015
As we prepare to begin our
Seventh Conference on Future Energy
in Albuquerque NM this midweek coming up, the local NBC-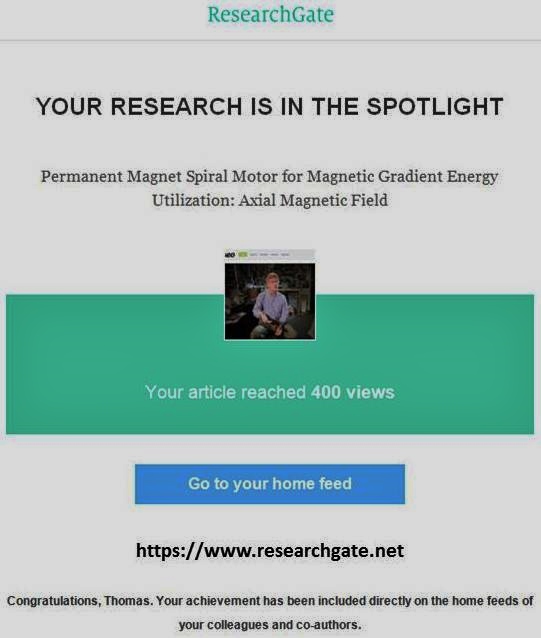 affiliate KOB-TV has agreed to send a couple of reporters to the conference since we have breakthrough energy presentations. We also are admitting ALL young people between 15-25 years old for FREE to COFE7 in order to help a few students who may take advantage of this great educational opportunity. My presentation at COFE7 this year, we be on Wednesday at 5:00 pm will focus on the "
Spiral Permanent Magnet Motor
which this month just received an honorary recognition for a 400 download milestone on
www.researchgate.net
. It is my most popular published paper.
Though we have reported on Energy Harvesting in many previous Future Energy eNews articles, the latest is an industrial report just released on July 23, 2015 which costs about $5000 for 1-5 viewers! However, it probably is the most comprehensive report ever assembled
http://www.energyharvestingjournal.com/
.
$100 million search for ET
From Berkley News: Internet investor Yuri Milner joins with Berkeley in $100 million search for extraterrestrial intelligence, by By Robert Sanders

The Breakthrough Prize Foundation and its founder, internet investor Yuri Milner, have signed a contract with UC Berkeley to lead a major escalation in the search for extraterrestrial intelligence, or SETI.

The foundation has committed $100 million over 10 years to UC Berkeley and other participating institutions for a project called Breakthrough Listen, the most comprehensive scientific SETI project yet.

Marcus Hollingshead & The Marcus Device
Via KeelyNet.com and Americanantigravity.com: Great Britain's hottest gravity-researcher, Marcus Hollingshead, joins us for an interview about "The Marcus Device" — an up and coming gravity-modification claim that describes many of the same effects as the Searl Effect Generator, and yet stands alone as being a completely new approach to warping time-space.

Marcus is undoubtedly one of the most-controversial characters in gravity-research in the 21st century. His claims about modifying gravity are astounding – the ability to manipulate tons of weight, create repulsive force-fields, and violate conservation of energy are some of the many ideas that both captivate and compel people driven by the tale of his invention.


Note: Tomorrow, Happy Birthday to Jerry Decker and Happy 26th Anniversary to his KeelyNet, one of the best alt-science sites on the net. Wish both of them many more, happier and increasingly prosperous returns of the day for the benefit of us all. Please visit KeelyNet.com and help the cause with the little you can ... but just do it. [Vlad]

From Physics.aps.org: Small changes in the configuration of a molecule can significantly influence its resistive behavior in a circuit.

Single molecules offer promise as components for nanoscale electronic circuits. Now, experiments with a molecule sandwiched between two metal electrodes show that a molecule's conductance depends sensitively on its configuration. Sujoy Karan, at the University of Kiel in Germany, and colleagues report that bending the molecule shifts its most resistive portion from one electrode to the other. This effect could be used to engineer a molecular-scale potentiometer, a device whose variable resistance can be used to control the flow of current in a circuit.

The Power Of Quantum Mechanics Allows The Sun To Shine
From Forbes.com: It's The Power Of Quantum Mechanics That Allows The Sun To Shine, by Ethan Siegel


The greatest source of concentrated energy in the Universe today is starlight, where the largest single objects in the Universe emit tremendous amounts of power through the smallest of processes: the nuclear fusion of subatomic particles...

How does this happen? Deep inside the hearts of stars — including in our own Sun's core — light elements are fused together under extreme conditions into heavier ones. At temperatures over about 4 million kelvin and at densities more than ten times that of solid lead, hydrogen nuclei (single protons) can fuse together in a chain reaction to form helium nuclei (two protons and two neutrons), releasing a tremendous amount of energy in the process...


Note: A very interesting article! Any physicist out there dares to comment? Does it mean that the secret to fusion on demand (hot or cold) could actually be smart manipulation of the wave properties of interacting particles, to increase the chance (to force) a quantum tunneling effect? [Vlad]

Aether Structure for unification between gravity and electromagnetism (2015)
Anonymous writes: by Wladimir Guglinski, author of the book "Quantum Ring Theory-foundations for cold fusion"

ABSTRACT

In 2006 the first version proposed for the structure of the aether was published in the book Quantum Ring Theory (QRT), published by the Bäuu Institute and Press. In the original version was proposed that all elementary particles have two concentric fields, one inner and the other outer. Therefore (in contrast with the mono-field considered in the Quantum Electrodynamics-QED ) in QRT was proposed a double-field model for the elementary particles. Some improvements were incorporated to that first version of the double-field, and published in 2015 by the Andrea Rossi's blog Journal of Nuclear Physics:

Aether Structure for unification between gravity and electromagnetism

HELP WANTED!
ZPEnergy.com
is looking for
Correspondents
to
Monitor
and
Report
on specific
New Energy
related
Science & Inventor Sites
and
Discussion Groups
. Especially, if you are a member following one or more of the
Discussion Groups
listed in our
Other Info-Sources
panel and want to be our
correspondent
for that particular list, we would like to hear from you. If you appreciate what we''re trying to do here and
want
to
join our team
, please use the
Feedback
or
Private Messages
[to Vlad] to contact us.
We
THANK YOU
for your support of our efforts to inform the public about
ideas, events and breakthroughs
in the energy field that we hope would soon
change the world
into a place we all dream to live in.
Important message
Don't have an account yet? You can create one. As a registered user you have some advantages like theme manager, comments configuration and post comments with your name.
Wednesday, June 24, 2015
·
Water splitter produces clean-burning hydrogen fuel 24/7
·
The "Tesla Collection"
Friday, June 05, 2015
·
Energy harvesting by means of "quantum" tunneling effects
Monday, June 01, 2015
·
The amazing promise of nothing
Wednesday, May 27, 2015
·
On the Nuclear Mechanisms Underlying the Heat Production by the E-Cat
Monday, May 25, 2015
·
The $5.3 Trillion Energy Subsidy Problem
Saturday, May 23, 2015
·
Collapse of Heisenberg's Uncertainty and Bohr's Complementarity
Tuesday, May 19, 2015
·
The Death of the Green Energy Movement
·
New graphene-like two-dimensional material could improve energy storage
Saturday, May 16, 2015
·
Mechanism for the entanglement in Gabriela's experiment
Tuesday, May 05, 2015
·
Seventh International Conference on Future Energy (COFE7)
Sunday, May 03, 2015
·
Quo Vadis Quantum Mechanics ?
Sunday, April 26, 2015
·
Quantum Energy Teleportation (QET)
·
Proven asymmetry of electric field foreseen in Quantum Ring Theory
Saturday, April 25, 2015
·
Over-Unity Reactionless Generator Invented In India
Tuesday, April 14, 2015
·
The 19th International Conference on Condensed Matter Nuclear Science (ICCF19)
·
Voltage Fluctuations Converted to Electricity
Monday, April 06, 2015
·
Understanding John Searl's SEG
Sunday, March 29, 2015
·
The New Energy Revolution Gets Down to Business
Sunday, March 22, 2015
·
Tesla Polyphase Analysis Breakthough RELEASED!
Older Articles

If no one is pissed-off with you then you are dead but just haven't figured it out yet.

-- Tom Peters